A few years ago, Google began showing answers to basic, explicit questions in a prominent light-gray box above paid and organic search results. From its humble beginnings, Google Answer Box has evolved beyond factual queries like weather, dates and sports stats to informational snippets. Now, Google returns featured snippets for anything from how to make homemade deodorant to travel advice.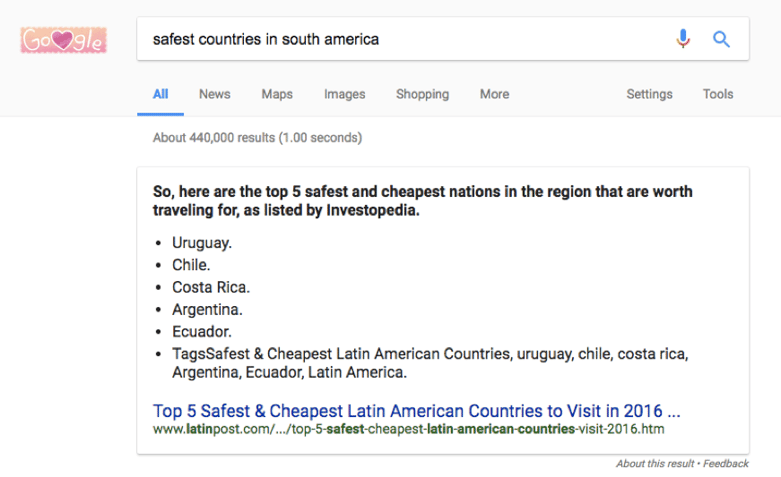 Instead of scanning page titles and meta descriptions for a credible source, Google does the legwork for you.
What Is a Google Answer Box?
Known as position 0, a Google Answer Box is a paragraph, list or table that appears above organic search results in response to a searcher's query.
Google pulls a short blurb from a blog or webpage that directly answers the question and offers a link to the site for the complete answer.
Multiple sites serve up different information around the same topic. (For instance, I found many conflicting opinions on the safest countries in South America). So how does Google choose?
Google analyzes the first page of search results for implicit (implied) or explicit (clearly stated) answers to searchers' questions. According to Google, the algorithim aims to "detect the most useful information." Because Google considers all content on the first page, you can occupy both the first organic search result and Answer Box for increased visibility and perceived authority.
Yes, you read that correctly: Your brand doesn't have to rank No.1 to outcompete all page 1 results. As Google continually refines its algorithm, your brand has ample opportunity to show up above the first organic search result. And dethroning the competition is pretty simple.
Opportunities Within Google Answer Boxes
Initially, brands and marketers had mixed feelings about appearing in Google Answer Boxes. If you immediately give searchers an answer (without the need to click), why would they proceed to your page?
While this notion makes sense for quick, fact-based queries, studies repeatedly show Google Answer Boxes garner more clicks than the first organic search result.
Both the brand value and opportunity with Google Answer Boxes are enormous right now. But like every good thing, that's likely to change.
At Human Marketing, our success with Google Answer Boxes started as happenchance. We've managed to get a few clients in spot 0 and quadruple visits and revenue from a single blog. By reverse-engineering our process, we continue to get clients featured in these prominent search spots.
One blog we produced for an ecommerce client now occupies the No. 0 and No. 1 organic spots for a popular search query. As a result, a single blog has generated more than $19k in direct revenue and drawn in more than 25k new eyes.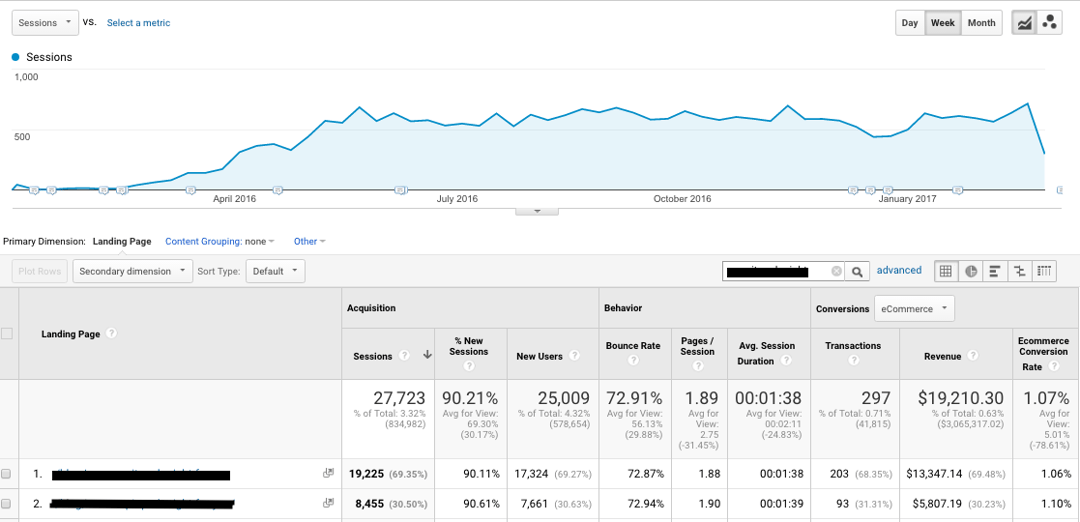 After recreating our success with Google Answer Boxes and testing our theories, we came up with these tried-and-trued tips to snag these featured snippet spots:
Identify Opportunities
You can upload your keyword list to sites like Moz and SEMrush to find phrases that return a Google Answer Box and opportunities. Under the "Insights" tab, Moz presents featured snippets opportunitities based on your current rankings and the content Google is currently extracting.
Just because a rich snippet doesn't exist for a keyword-based question doesn't mean your brand can't rank for it. List out potential keyword-driven questions your audience might search for. Incorporate these Q&As into relevant existing content to get started.
A search phrase also doesn't need to be a question to return a featured snippet. Beyond questions, you can capitalize on informational featured snippets. For instance, Google can infer that someone searching for "yoga poses" would like to see examples. Use general phrases that also prompt an answer (such as "how to") to amplify your chances.
For more tips to identity answer box opportunities, this blog from Distilled is a great resource.
Format Your Page for Explicit Results
Say you want Google to recognize your content for "HIIT exercises." Go back to basic SEO best practices and directly state that phrase in your H1, page title, alt tags and throughout the content. Follow up your subheadings with a comprehensive list of effective HIIT exercises. Right now, Google favors literal search and answer duos. The more direct you are — the better.
Optimize Your Page to Outrank Weak Answer Boxes
You might notice Google will pull featured snippets from questionable sites. The credibility of your site does matter, but a high-authority site is not a prerequisite for earning Google Answer Box status.
If competitors have snagged the Google Answer Box for a particular keyword, restructure your blog or webpage to directly answer the question. You'll be surprised how easy it is to bump down competitors with comprehensive, high-quality information.
For example, in the IT sphere, the SEO competition is brutal. For one IT support company, we outranked powerhouses like Microsoft, InfoWorld, PCMag and TechCrunch by incorporating the best practices listed above.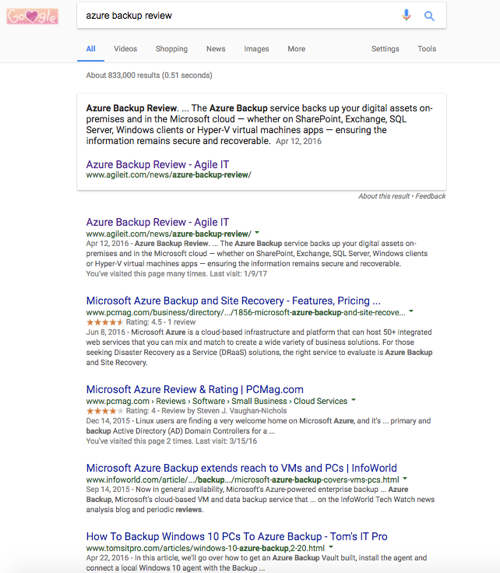 Don't let big names scare you. Taking a few minutes to optimize high-performing blogs and webpages can create huge traction for your site.
Align Your Answer Format to the Query
You might have noticed that Google will extract paragraphs, graphs and lists in featured snippets. Right now, paragraphs dominate Google Answer Boxes — appearing almost 3 times as often as lists and graphs.
Still, it's wise to think logically with your format. If you're targeting the phrase "cheapest hotels in San Diego," list out the hotels to align with the implied list format.
Be Literal But Accurate
Unlike other areas of marketing, there are no tricks here. Be direct with your questions and answers, but most importantly, prioritize accuracy. Regurgitating information already on the web won't do you any good — especially when attempting to bump down a competitor.
Don't Reinvent the Wheel
Why start fresh with blogs and webpages when you could experiment with existing resources? Audit the onsite assets you already have, and identify ones you could tweak to align with these Google Answer Box best practices.
Google featured snippets present an early opportunity to earn prime SEO real estate. Identify low-hanging fruit and incorporate these best practices into your content, and you could win big for a very low investment.