Have you hit a wall with your ecommerce marketing strategy?
We get it — scaling your digital business is an uphill battle. Driving traffic to your website is challenging enough, but even more elbow grease is required to turn visitors into leads or paying customers.
Sadly, there's no secret formula for growing your ecommerce business effortlessly. However, there are savvy ecommerce digital marketing strategies you can deploy to increase sales and engagement and see growth faster.
Ecommerce Digital Marketing Strategies for Explosive Growth
These tips will help you learn how to grow your ecommerce business. Let's take a look at four ecommerce marketing strategies you can easily implement today for some quick wins:
Add popup forms to your website

Run (and optimize) Facebook retargeting ads

Optimize PPC campaigns and budget

Use automated workflows to nurture prospects and customers
Need more help with your ecommerce business? Talk to our team of ecommerce marketing specialists today.
1. Add popup forms to your website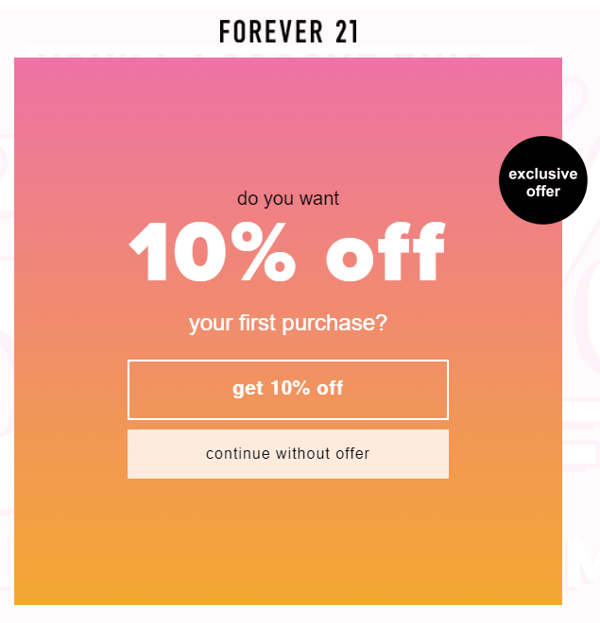 Use popup forms to ask visitors for their email address in exchange for a discount, free shipping offer or gift. Drum up quick sales from new visitors, or get them in your database so you can nurture them until they're ready to purchase.
Here are a few ways to engage your visitors through popup forms:
Offer welcome discounts

Offer exit-intent discounts

Promote your current sale

Send a surprise or coupon code on their birthday

Encourage signups for email newsletters

Encourage signups for SMS campaigns

Promote a contest or giveaway
Sure, you might be thinking: "But I already have an email subscription at the bottom of my website. I don't need an annoying pop-up form!"
Research shows that popup forms still work. Let's take a look at some real-world statistics to understand why popup forms are still effective for your ecommerce sales strategy.
Here at Human, we implemented a popup form for one ecommerce client and analyzed the results. Here's what we found:
92 percent

of new email contacts came from the popup form.

8 percent

of new email contacts came from the standard email subscription form at the bottom of the page.
In another study, the folks at Sumo analyzed nearly two million popup forms and calculated an average popup form conversion rate of 3.09%.
A 3.09% conversion rate doesn't seem so high. But even if you're only getting 100 website visitors per day, you'd still get 117 new leads every month!
You simply can't afford to ignore these numbers. Popup forms are easy to set up, and require minimal effort to manage once you turn them on. Don't miss out on an easy opportunity to earn more leads and revenue.
The Bottom Line:
Add popup forms to engage with new visitors.
Offer a discount or something of value in exchange for their email address.
Not having a popup form on your website to capture leads = a missed opportunity.
2. Run Facebook retargeting ads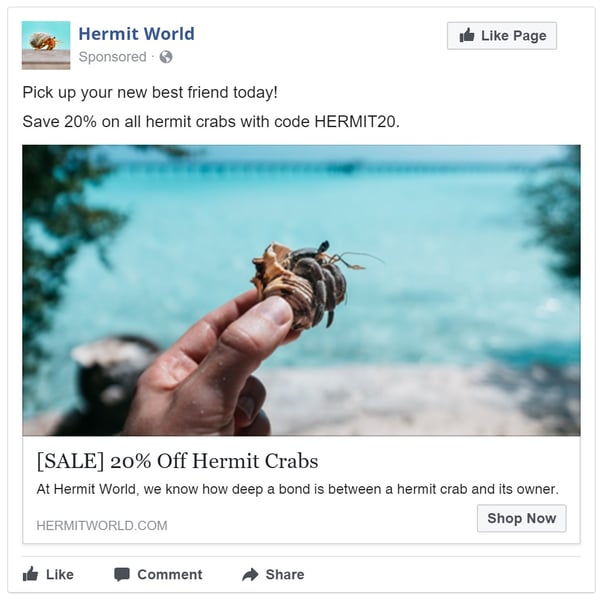 Remember that one time you looked up how much a pet hermit crab costs?
Well, the internet remembers — that's why you can't stop seeing hermit crab ads on Facebook. Ads for crabs everywhere.
It's not magic. The hermit crab website you visited had a tracking pixel on it. It used cookies to follow you via Facebook ads.
People rarely buy from a website the first time they visit it. With Facebook retargeting, you can advertise to people who visit your site but leave without making a purchase.
Facebook retargeting helps you reach individuals who already demonstrated a degree of interest in your products. Once they see your ad, they might finally feel compelled to return to your website and click 'add to cart.'
Not yet convinced? Statistics show that retargeting ads receive 76% more clicks than display ads and drive a whopping 1,046% increase in organic branded searches.
Realistically speaking, not everyone will click on your ads. But the more often they see your brand name or products, the more likely they'll remember you (or search for you) once they're ready to buy.
Take note of these tips before you launch retargeting campaigns:
The copy should focus on customer pain points or questions they may have about your product or business. Your retargeting audience is already aware of your brand, so there's no need to reintroduce yourself.

Showcase your product in action or demonstrate the product's value so prospects can see what they're missing.

Promote exclusive offers or discounts they can't find anywhere else on your website. Your offer might give them the final push they need to convert.
Check out our step-by-step guide to setting up Facebook retargeting and get started today.
The Bottom Line:
Use Facebook retargeting ads to rekindle interest from prospective customers.
Retargeting ads are also helpful for increasing brand awareness.
Copy and creative should nudge potential buyers to take the last step and convert.
3. Optimize PPC campaigns and budget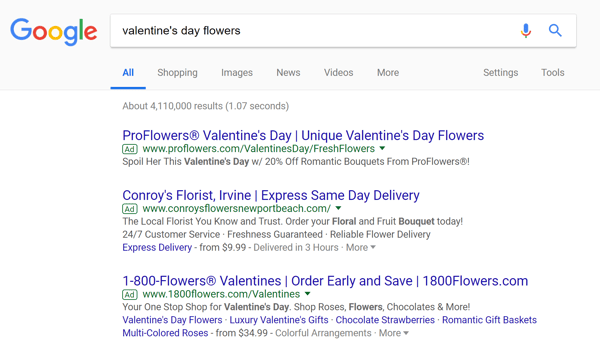 Retargeting ads and PPC (pay-per-click) ads are two sides of the same coin. Essentially, you spend money to nab digital real estate so you can drive traffic to your website.
Unlike organic search engine optimization (SEO), which can take months to years to see results, PPC is a surefire way to drive immediate traffic and revenue. But PPC campaigns can be very costly, especially if you aren't testing or optimizing your campaigns regularly to ensure the best ROI.
Here are a few ecommerce PPC tips you should know before diving in:
Go slow.

Google AdWords can be confusing at first, especially if you've never used the platform. Neil Patel has an excellent

step-by-step guide

to help you.

Create a list of target keywords.

Think of what users might type into Google to find businesses or products similar to yours. Evaluate your buyer personas, dig into

Google Analytics

or explore

SEMrush

to pinpoint the right keywords.

Start with small bids.

Depending on your industry and products, some keywords are expensive. Start small and see which keywords perform best.

Watch your budget.

PPC can get expensive quickly. While PPC campaigns can deliver immediate results, they can't run on their own. Optimize your campaigns and track performance to ensure you aren't wasting your money.
The Bottom Line:
When it comes to PPC ads, you have to spend money to make money.
Always monitor PPC spend closely, and don't bid on expensive, competitive keywords if you're just starting out.
4.

Use automated workflows to nurture prospects and customers
Automated email marketing can save you a ton of time and effort. But we're not just talking about order or shipping confirmation emails.
Workflows (also referred to as automated email series or sequences) help nurture leads based on their browsing or purchase behaviors.
Let's break down some common email flows that ecommerce business use:
Welcome series
Introduce your brand, thank new contacts for subscribing, and let them know what they can expect from you via email.
Try including an introductory discount or offer, and nurture subscribers with inspiring brand stories, compelling testimonials and social proof or product recommendations.
Cart abandonment reminders
Around 70% of website visitors abandon their online shopping carts. That's a lot of missed potential sales.
Abandoned cart workflows target visitors who add items to their shopping cart but don't complete the transaction. These emails typically have a very high open rate — about 43% or higher, with an average click rate of 21% and a conversion rate of 10-11%. Not bad!
Below are some examples of awesome abandoned cart emails.
This one from Kate Spade is bright, well-designed and to the point: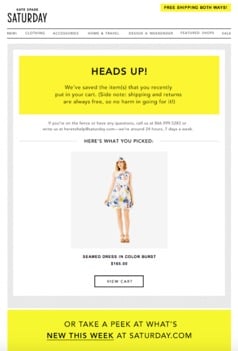 Millennial beauty brand Glossier goes for cheeky and funny — perfect for their young female audience.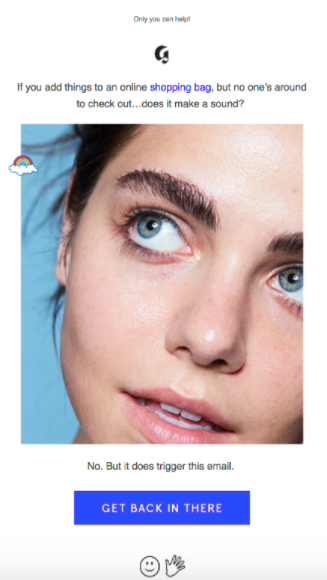 Google puts the pressure on with a clean, graphic design.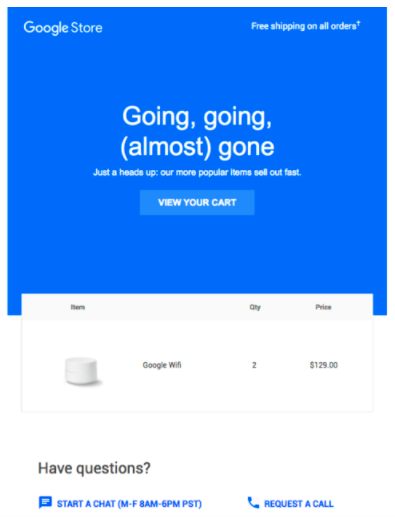 Most email marketing platforms like Hubspot, Klaviyo or Mailchimp have abandoned cart workflows that make setup easy.
Post-purchase series
After a customer receives their items, follow up to request reviews or feedback, or cross-sell complementary products. You can even remind buyers to replenish their products.
Check out these examples of engaging post-purchase emails.
Sephora reminds you that you might be running out — it's time to restock.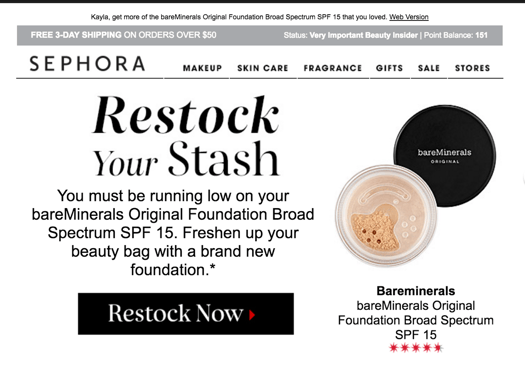 Fifteen days after delivery, Winc checks in to see how you're enjoying your latest selection.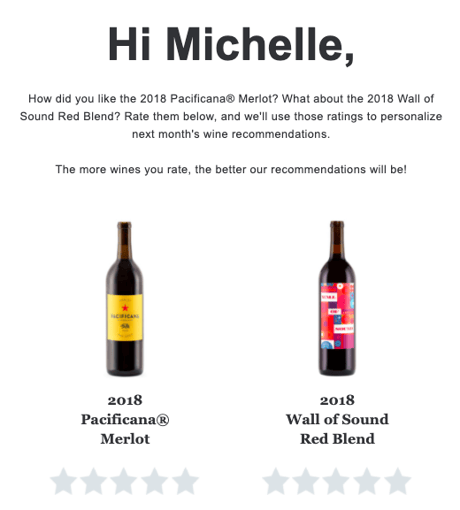 Re-engagement series
If you have stale contacts who no longer open or engage with your emails, consider adding them to a re-engagement workflow to rekindle their interest.
Subscribers often forget about the different emails they've signed up for, so it doesn't hurt to nudge them and see if they're still interested in receiving your messages. Here's a good example from Udemy: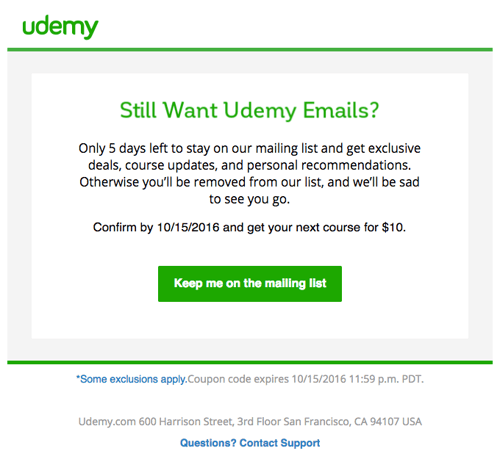 You can also grab their attention with a we-miss-you discount or offer to see if they'll take the plunge.
The Bottom Line:
Engage your database with automated email sequences.
Set up different workflows that contact customers or prospects at different stages of the buyer's journey.
Energize Your Ecommerce Digital Marketing Strategy
Following these tips will help you achieve quick wins for your ecommerce business. But if you're serious about taking your ecommerce marketing strategy to the next level, you'll want a dedicated team of digital marketing experts working alongside you.
Human is an award-winning digital marketing agency that specializes in growing traffic and revenue for ecommerce businesses.
We guide you through product launches, build your SEO and content strategy, leverage SMS marketing, enhance your social media presence and even develop, build and customize your Bigcommerce or Shopify store.