You need to publish engaging content if you want to stay competitive in today's digital world. Whether you're an ecommerce business, IT company or real estate office, great content generates higher rankings, more clicks and more leads. Sites with outdated, unoriginal content become invisible.
But that doesn't mean you need to reinvent the wheel. And sometimes, we can all use a little help.
That's why we've compiled a list of critical content writing tools for you to help you write dazzling articles, blogs and website copy to outpace your competition.
40 Content Writing Tools for Every Stage of the Writing Process
You can't create quality content by typing words onto a page and hitting publish. You must brainstorm and research to identify what interests your audience, write, revise, edit, optimize and perfect.
This multi-step process can be overwhelming. And getting stuck at one step can really decrease your productivity. These tools will to help you speed up the writing process and compose thoughtful, scroll-worthy pieces for your business.
Not quite sure how to write engaging, SEO-optimized content? First read our blog post, How to Write SEO-Friendly Content to Get Your Business Ranked.
Brainstorming Tools
The title is the first thing your readers see when they look at your content. It needs to command attention. Use these topic generators to come up the best H1 for your writing and give your keyword a direction.
Portent's Content Idea Generator was created by digital marketers. The topics are not only easy to write about but use language proven to get clicks.
Simply type your keyword into the search box and hit enter. Then, a title will appear.
If you don't like it, hit refresh until you find one that fits. Check out the screen recording below to see how this content writing tool works.
Quandary's Content Idea Generator is a helpful tool that generates hundreds of blog topics in seconds.
This generator produces a wider variety of topics than Portent's tool. Instead of entering a keyword, you answer 18 questions about the product, service or idea you want to write about. Then the generator spits out topics.
Pro Tip: Take time to clearly define your target audience and content objectives before you use this tool. This will help the generator churn out quality titles.
See how it works below.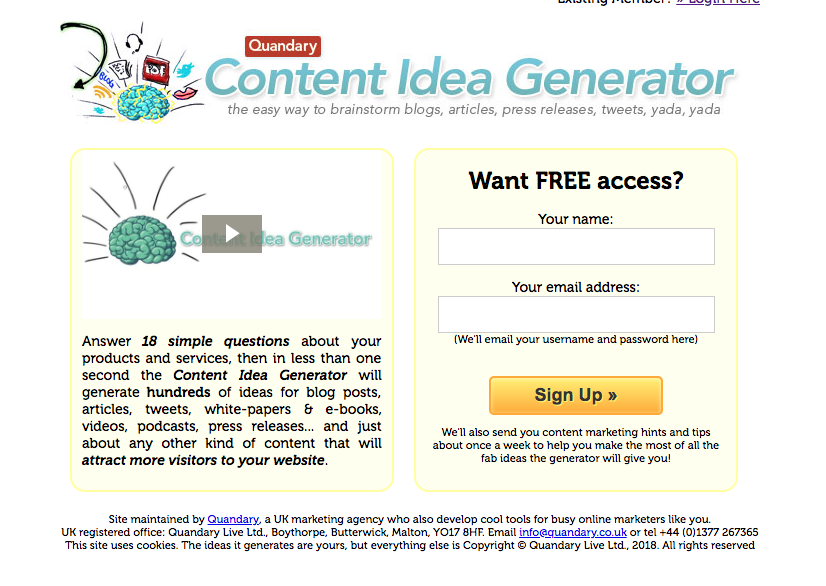 Great content answers burning questions. But how do you know what people want to learn? That's where Answer The Public comes in.
Answer the Public lets you type in a keyword and see related search queries — actual questions people type into search engines. The extensive list makes it easy to find one you can sink your teeth into.
I used Answer the Public to find the topic for this blog post. First, I typed in "content writing." Then I scrolled through the query list until I saw "content writing tools." Next I verified the search volume behind this keyword in Moz's Keyword Explorer and came up with a title.
HubSpot's Blog Topic Generator is another content writing tool you can use during the brainstorming process. We recommend using it if you already know the general direction you want to go with your content, but need help coming up with an eye-catching title. You don't have to buy HubSpot to use it.
HubSpot's tool works like other generators, but instead of entering a keyword or answering questions, you enter three nouns related to your topic. Then HubSpot spits out five titles. If you don't like them, hit "Try Again" and get five more.
Research Tools
Once you've come up with a topic, it's time to do research. Research is arguably the most valuable step in the writing process — it's the backbone of your content. But it takes the most time. Here are some tools you can use to make it easier.
Content isn't valuable unless people care about the topic. Quora lets you search for a topic and look at questions real people have about it. Responding to Quora questions in your content is great way to add valuable insights to your writing.
Compared to Quora, Reddit is a slightly less polished (but still useful) research tool. It's one big chat room where people discuss and debate every subject known to man.
Use it to collect qualitative data to make your content more relevant to your audience.
Pro Tip: Reddit is also extremely useful when you're developing buyer personas for your business. It helps you get in the same headspace as your target audience.
Need to write content about a complex topic? Lynda is the research tool for you. It has thousands of online video courses on technology, business, government, creative, and more.
When you do research, it's easy to waste time copying, pasting, and switching between your word doc and the web to read and take notes. Weava helps streamline your research so you can do all of this in one screen.
Simply download the free Google Chrome extension. Then go to your Weava dashboard and create a folder — this is where you record all of your sources and notes.
Once you've created a folder, start browsing with Chrome. When you want to save information from a source, click the pink and yellow "W" in your toolbar. Make sure "highlight" mode is on.
From there you can start highlighting chunks of text on websites. Weava will add these chunks to the folder which you're able to see at all times in a window on the right side of your screen. You can take notes about a chunk by hovering over it and clicking the notepad icon.
Another problem many writers face when doing research is having a million tabs open at once. You want to be able to click from your online doc to your sources instantly without losing track of everything, but this is a disorganized way to do research.
Instead of overwhelming yourself with tabs, get OneTab. With the click of a button, it collapses all of your tabs into one list of links.
The best research includes qualitative and quantitative data. Statista has charts, tables and graphs on almost every topic. Fill your content with them or just write down the facts.
Use this tool when you want to convey a bigger picture.
Need to understand something fast? Don't forget about YouTube. You can learn almost anything you want by searching for it there. Plus, watching videos about a topic is faster than reading about them.
YouTube is great when you need to write about something complicated in a simple way. For example, we wrote a post on how to make DIY sweat pads. Instead of reading about the steps, we watched a YouTube video and were able to grasp the process in minutes.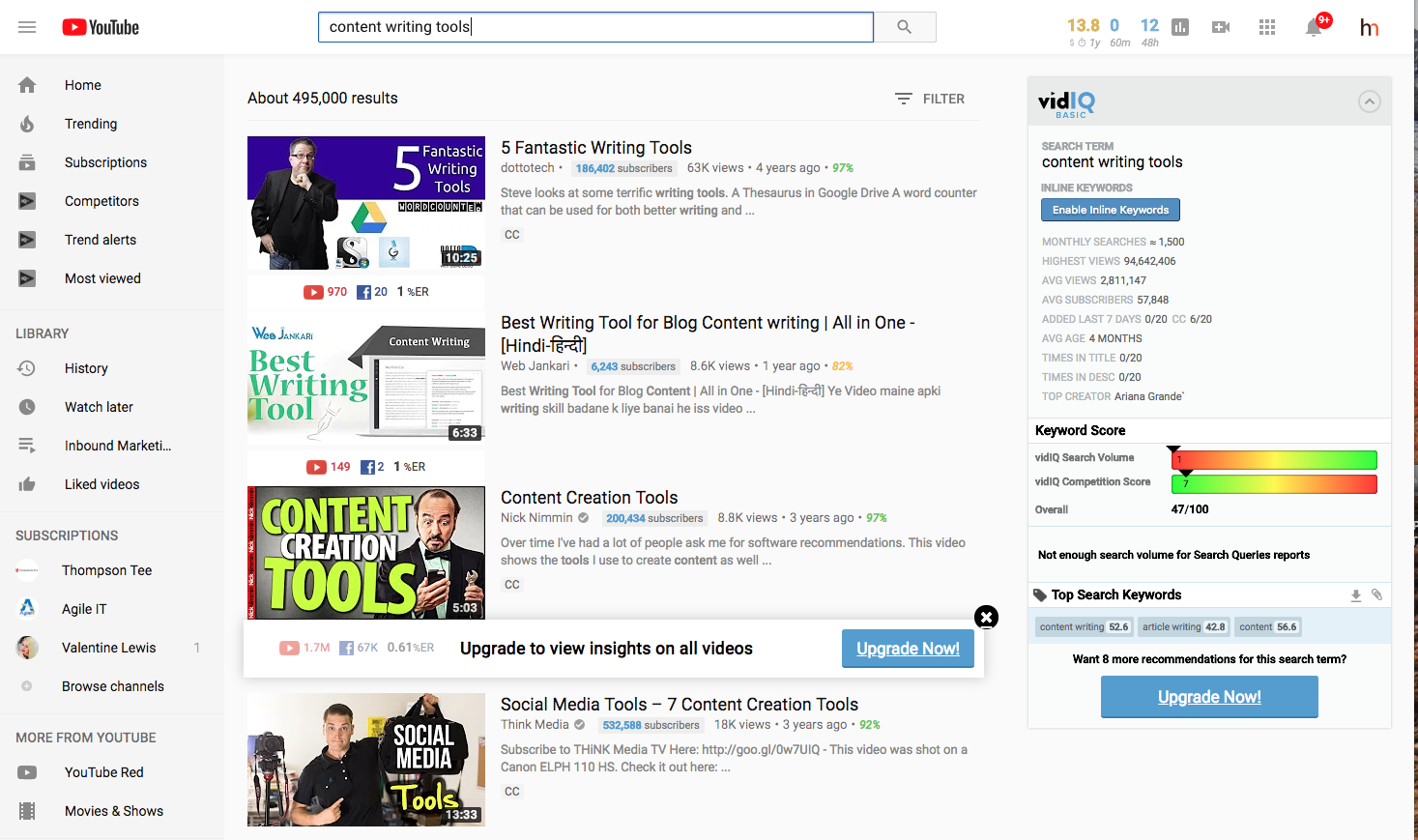 If you use Google Docs to write your content, take advantage of their Research tool.
Open up a new Google Doc and navigate to Tools > Research. A window with a search box will pop up on the right side of your screen. You can browse the web and write in your doc all at once. You can also narrow your search results to images, quotes, articles, dictionary definitions or personal social media profiles.
The research tool also lets you preview, insert a link or cite any website you view within the window.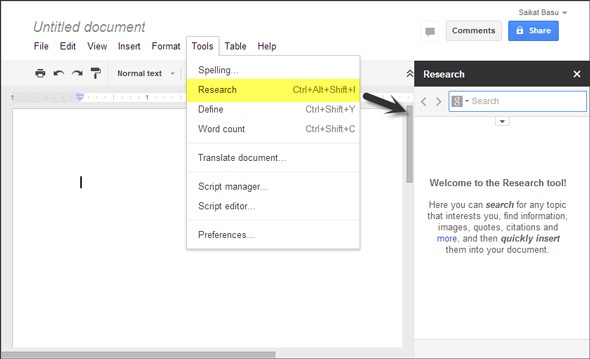 Outline Tools
Outlines are a writer's best friend. They're a great way to organize your writing to ensure the final product is clear, concise and valuable to your audience.
Use the following tools to create exhaustive outlines.
Formatting gets messy with Word doc outline. Scrolling through to find the right section is cumbersome. Maybe you want to focus on one section at a time.
Workflowy solves all of these outlining problems. It allows you to format segmented lists quickly, zoom in and out, expand and collapse different sections to navigate your outline quickly.
Finally! There's a tool that instantly applies the correct capitalization to your headings and it's called Capitalize My Title. The screen recording below demonstrates how it works.
Click here to start using it and change your entire content writing existence.
Writing Tools
When it comes to writing, the best approach is to embrace TURD (The Ugly Rough Draft). But this takes practice. If you're like most writers, you criticize words the second they hit the page. It's like second nature.
Take it from someone who knows — don't fall into this trap! Write now (even if it's ugly) and edit later.
Here are three tools to help you keep your focus.
Blind write is a tool that blurs out your words when you type them so you can't see what you're writing. It's great for developing your Ugly Rough Drafts and prevents you from analyzing your work.
Just log onto their website and enter a title for your content. Then set a time limit for how long you want the words to be blurred out and start writing. After time's up, you'll be able to see your words.
The black background prevents you from getting distracted. The inability to see what you're typing helps you get thoughts out of your head and onto the page. And the time pressure helps you crank out paragraphs.
Zen Pen is another minimalist writing tool that only shows black type words on a white background. It's best used in full screen mode so you're not tempted to check Facebook or your email in the middle of a grind session.
3. Microsoft Word Focus Mode
If you use Microsoft Word to write your content, try Focus Mode. Simply open up a doc and click "Focus" in the bottom right corner of your screen.
All you'll be able to see is a white document and the words you type into it. The formatting toolbars are hidden until you hover your mouse over the top portion of your screen.
Revising and Editing Tools
If research is the backbone of great content then editing and revising are the fingers and toes. Your content can still function without these steps but will accomplish much more with them.
No one, not even J.K. Rowling gets it right the first time. Here are some tools to help you catch all your mistakes and make your writing better.
Writing in a grammatically and stylistically correct way is important. Failure to do so makes your content look unprofessional.
Not sure if you're supposed to spell out ten or write it as a numeral? Wondering if you should use an em dash or a comma in a sentence? Turn to the AP Stylebook. It's the content writing industry's bible.
Sign up for a one-time fee of $28 — you won't regret it.
If you find yourself using the same words over and over again when you go back to revise, use Thesaurus.com. It's the lazy writer's best friend. Just type in your lame word and hit search to see superior alternatives.
If you're writing for a B2B company, your content can quickly become filled with trite business jargon like "baked in," "bucketize," and "circle the wagons."
Use Unsuck-It when you want to clearly explain an idea instead of using an ambiguous phrases. You can see an example of how it works below.
Grammarly automatically catches grammar errors in your writing. Once you've revised a piece, log onto Grammarly.com and copy and paste your work into a "New Document."
It checks for spelling, punctuation, grammatical errors, passive voice, and more.
The Hemingway App turns lengthy, complex sentences into bold, clear ones. It's great for making your content more readable.
Just copy and paste your content into the Hemingway App and get suggestions for how simplify your writing.
The Readability Test Tool lets you see how easy your content is to read.
Is an important blog posts performing significantly worse than the others? Does one of your web pages have a surprisingly high bounce rate? Check it on the Readability Test Tool.
If you see more orange and red bars than yellow and green, you may want to revise the language on page.
It's best to avoid clichés in your content. These are phrases that have a "general meaning" or have lost their meaning over time. When you write with Clichés your readers have a harder time understanding you.
Cliché Finder helps you eliminate obscure phrases and challenges you to be as specific as possible.
SEO Optimization Tools
Before you publish your content, you must optimize it for SEO. Doing this helps search engines push your site up the ranks and makes you more visible to searchers.
Here are a few tools to help you with SEO.
Yoast is a WordPress plug-in that checks your content for necessary SEO elements.
Every piece of content you write must be designed in a way that's search engine-friendly. Optimized content uses the keyword naturally throughout, has headings (H1s, H2s, H3s, etc.), image alt text, links to authoritative sites, links to your own web pages, and more.
Download Yoast for a quick and easy way to check your SEO elements.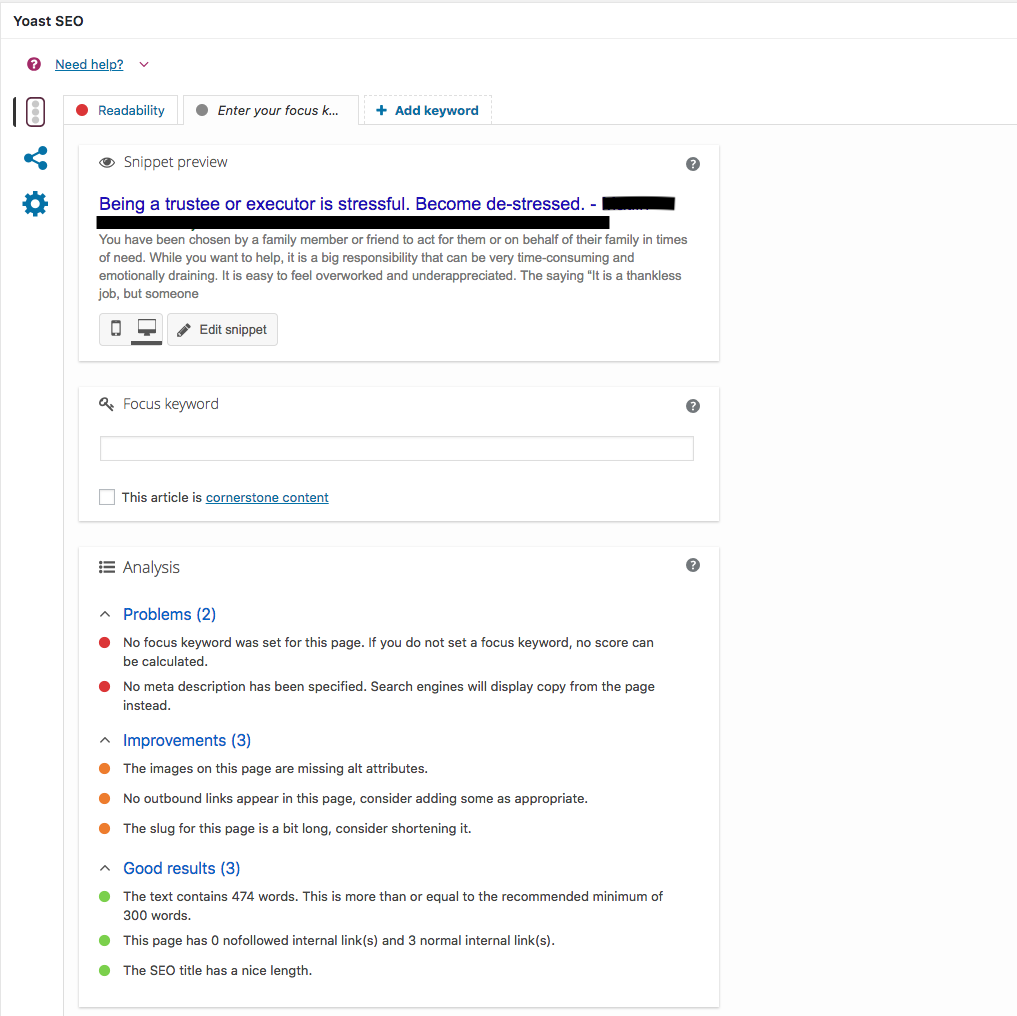 Having broken links in your content devalues it from a search engine perspective. You should manually check your links before you publish, but you should also check them once your content goes live.
Check My Links is a free Google Chrome extension that helps you do this. Just navigate to the page with your content and press the black check mark icon in the upper right corner of your browser to identify broken links.
Before publishing any piece of content, you should always consult Backlinko's Anatomy of a Perfectly Optimized Page checklist. This is a complete list of everything your page must have to have the best chance of ranking.
Bookmark this page and make sure you check everything off the list before your content goes up.
One of the most annoying things about content writing is when your blog publishing tool is hard to use, messes up formatting when you copy and paste and forces you to hard code everything in HTML. (*Cough, cough BigCommerce.) This is a pain in the butt if you're not an experienced coder.
Instead of wasting time, use Word2Clean HTML. This tool converts Word Documents to HTML with the click of a button. Check out how it works below.
Tools for Perfecting Your Content
Before I started working for Human Marketing, I underestimated the power of adding finishing touches to your content. The right image, GIF or infographic can make a HUGE difference.
55% of people spend 15 seconds or less reading a blog post. If you want to command readers' attention, you need to use more than just words.
Here are some tools you can use to perfect your content.
Use GIPHY when you want to make your content funny, endearing and relatable. Everyone loves GIFS. They're short video clips that express a feeling or idea. They add movement to static content which helps catch readers' eyes.
You don't need to be a photoshop wiz to create awesome graphics. Canva provides templates to create your own by dragging and dropping. Use it to create professional-looking graphics for your content.
CloudApp is a screen recording application that you download onto your computer. Use it when you want to show your readers how something online works. I used it for all the screen recordings in this blog post.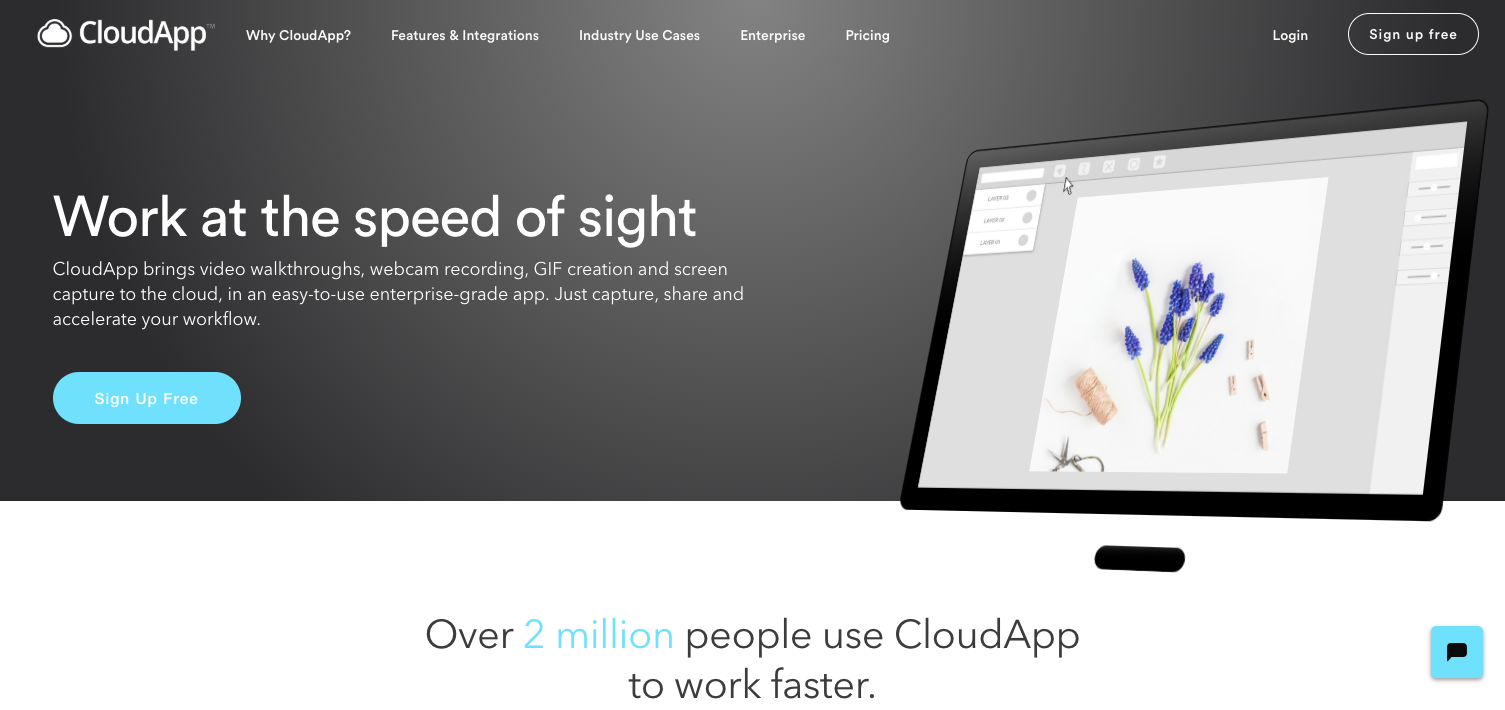 Finding non-cheesy free stock photos isn't always easy. Luckily, Unslpash has a collection of influencer-worthy photos. They're edgier and more artistic than iStock and every download is free.
Pexels is another free stock photo site. The 40,000-photo library guarantees 3,000 new photos on its site every month.
The photos are high-quality and taken by professional photographers.
HubSpot has their own library of free stock photos. They have hundreds of business, holiday, and assorted photos. It's just another free resource to add to your list to use when you run out of iStock credits.
Access the library here.
I hope this blog post helped you learn about new content writing tools you can use to compose kick-butt content. Now, go forth and write!
Need help with content writing for your small or mid-sized business? Let's chat!