Publishing unique, relevant and engaging content helps you stay competitive in your digital marketing efforts.
Great content generates higher organic rankings and more clicks, leads and revenue. Conversely, sites with outdated, unoriginal content become invisible and are less favorable to search engines.
To help you write five-star content and outpace the competition, we've rounded up these must-have content writing tools for SEO, strategy, productivity and more.
35+ Content Writing Tools You Need to Use Today
An end-to-end content marketing plan requires thoughtful strategy, research, writing, editing, publishing and search engine optimization.
The process might sound overwhelming, but it doesn't have to be. Explore these tools for content writing to compose rank-worthy blogs, web content and resources:
Strategy and Brainstorming Tools for Content Writing
Use these content idea generators to build your editorial calendar and uncover untapped opportunities:
Portent's Content Idea Generator
Quandary's Content Idea Generator
Answer the Public
HubSpot's Blog Topic Generator
Quora
Reddit


1. Portent's Content Idea Generator
Portent's Content Idea Generator was created by digital marketers to help you come up with unique blog topics.
Simply type your target keyword into the search box and hit enter. Then, a title will appear.
If you don't like the suggestion, hit refresh until you find one that fits. Portent intelligently uses language to create titles that'll draw clicks.
2. Quandary's Content Idea Generator
The Quandary Content Idea Generator is a helpful tool that generates hundreds of blog topics in seconds.
How does the Quandary tool differ from Portent's? Instead of entering a keyword, you answer 18 questions about the product, service or idea you want to write about. Then the generator spits out topics.
Pro-tip: Define your target audience and content objectives before you use this tool. This will help the generator churn out higher-quality titles.
3. Answer the Public
Great content answers burning questions. But how do you know what people want to learn? That's where Answer The Public comes in.
Answer the Public lets you type in a keyword and see related search queries — actual questions people type into search engines. The extensive list makes it easy to find one you can sink your teeth into.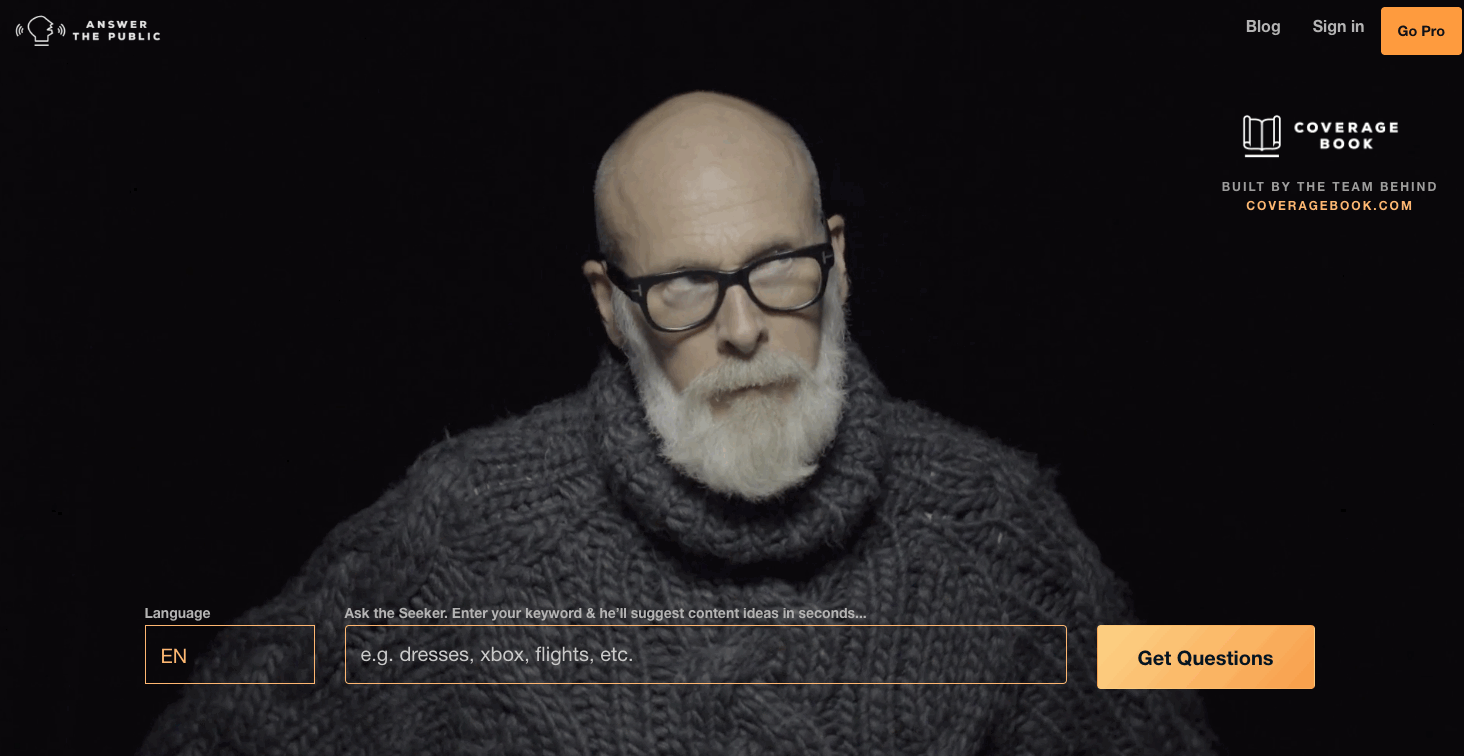 4. HubSpot's Blog Ideas Generator
HubSpot's Blog Ideas Generator is another content writing tool you can use during the brainstorming process. You don't have to buy HubSpot to use it.
HubSpot's tool works like other content idea generators, but instead of entering a keyword or answering questions, you enter three nouns related to your topic. The tool will provide five potential titles. If you don't like the suggestions, you can try again to get five more.
5. Quora
What questions are people asking about a certain topic? With Quora, you can search for a topic and look at questions real people are asking.
Pro-tip: Are you an expert in your field? Responding to Quora questions can elevate your thought leadership. It's also an opportunity to earn backlinks to existing content.
6. Reddit
Reddit is another useful tool for developing your content strategy. Picture Reddit as one big forum where people discuss and debate nearly every subject known to humankind.
Like Quora, you can browse Reddit to see what questions or pain points your target audience might have. Use Reddit to collect qualitative data to make your content even more relevant to your audience.
Both Reddit and Quora are useful for developing buyer personas for your content strategy. These tools help you get in the same headspace as your target audience.
Research and Outlining Tools for Content Writing
Here are some content writing tools you can use to make the research and outlining process much easier:
LinkedIn Learning
Weava
YouTube
Statista
Workflowy


1. LinkedIn Learning
Tackling a complex topic? LinkedIn Learning (formerly known as Lynda) is the research tool for you, serving up thousands of online video courses on technology, business, government, creative industries and more.
Subscribers get unlimited access, and a one-month free trial is available.
2. Weava
Research can get messy - it involves browsing multiple articles or resources to find the information you need. Luckily, Weava helps consolidate your research into one set of notes. If you struggle with organizing your notes, this tool is perfect for you.
Highlight pages and PDFs, and organize or color-code your findings to align with your outlines.
You can download the free Google Chrome extension, or purchase a premium version with more features (starting at $7.99 per month).
3. YouTube
Don't forget about YouTube! YouTube is a quick way to learn about nearly any topic with a simple search.
YouTube is an ideal resource if you're writing an instructional guide or a how-to article. And if you're a visual learner, you might prefer watching videos rather than reading about a topic.
4. Statista
Need reliable numbers, data or information on a topic or trend? Refer to Statista as a trustworthy source.
Statista is free to browse, but enterprise solutions are also available for corporations or educational institutions.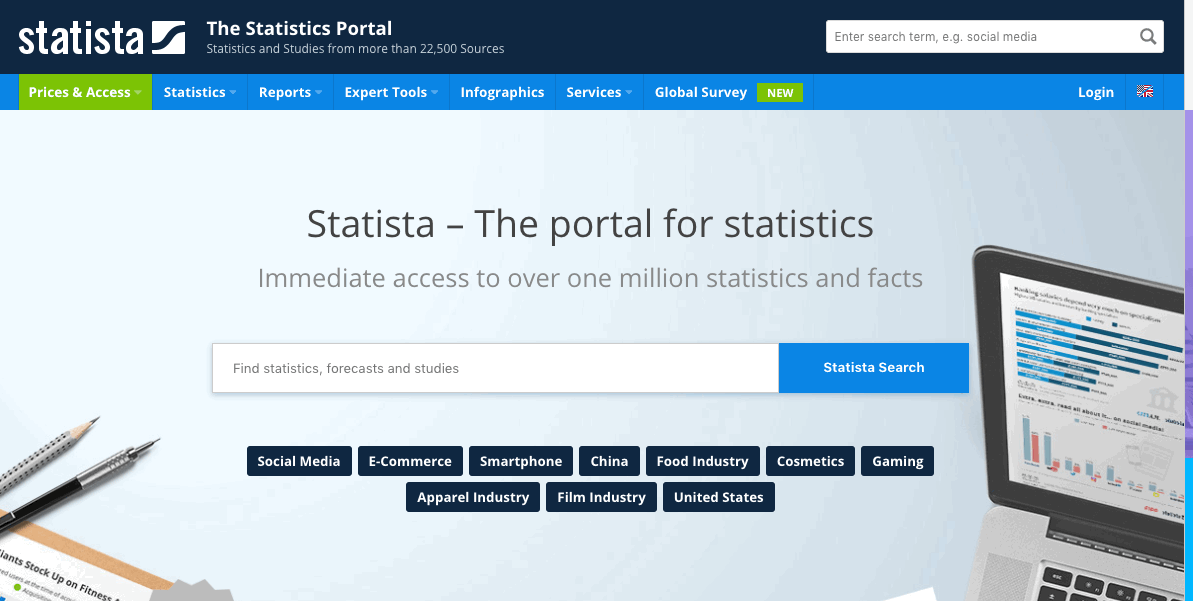 5. Workflowy
When you're developing outlines, formatting can quickly go awry.
Workflowy solves all your outlining problems. Use Workflowy to zoom in and out or expand and collapse different sections to navigate through your outline smoothly.
If you're drafting an extensive guide or long-form pillar page, Workflowy makes a great addition to your writing process.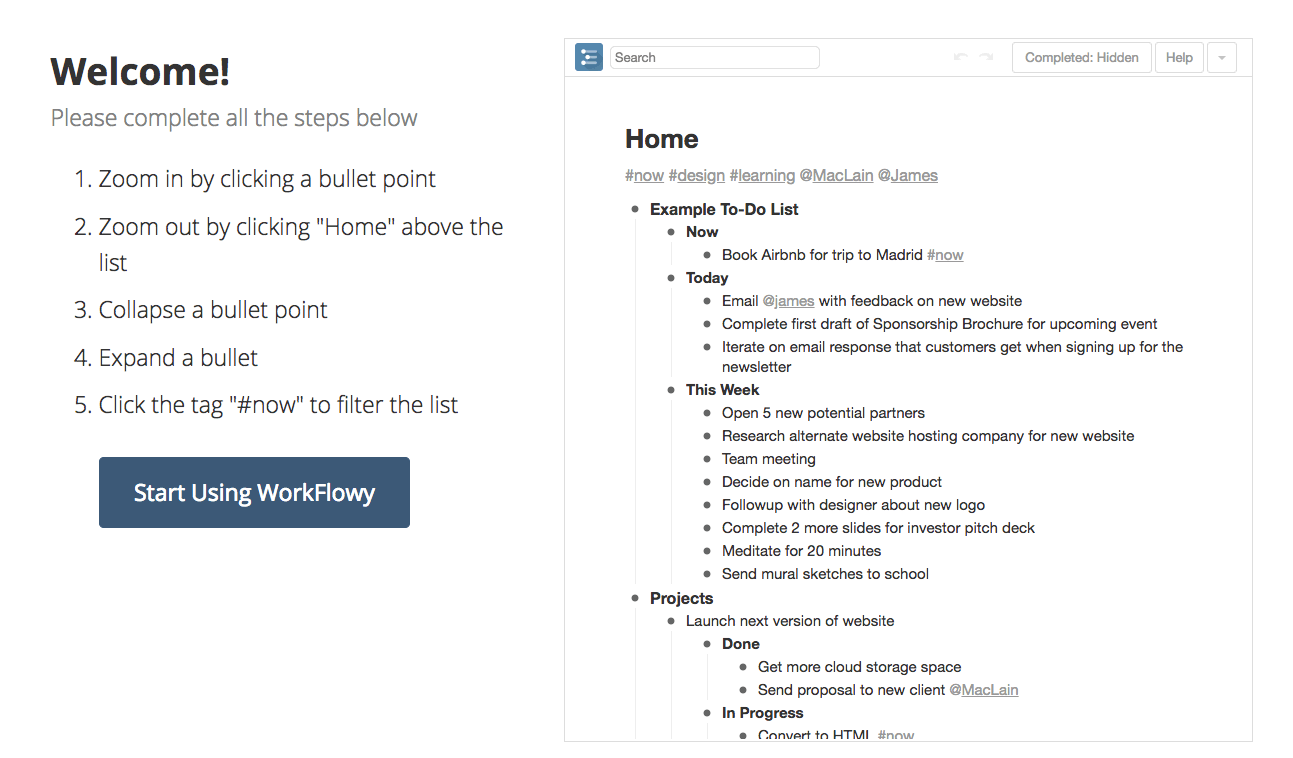 SEO Tools for Content Writing
Writing SEO-friendly content is one of the best things you can do to improve your website's visibility. SEO-friendly content is critical for brand recognition, page authority, traffic and rankings.
Here at Human, we turn to these trustworthy content writing tools for SEO to lift organic rankings and publish pages that search engines love:
Blueprint SEO
Moz
SEMrush
Google Trends
Yoast SEO
Hemingway
Thesaurus.com
Capitalize My Title
Unsuck-It
Readability Test Tool
Check My Links
Looking to develop a content and SEO strategy that gets results? Reach out to Human today.
1. Blueprint SEO
Blueprint SEO is an innovative topic cluster tool that helps you organize your content strategy around topics to build online authority.
Search algorithms are constantly evolving, making it challenging for content marketers to keep up. Blueprint SEO guides you through creating topics and subtopics so you have a clear roadmap for success.
You can also measure performance, manage your internal linking strategy and brainstorm ideas or jot down notes about topics and subtopics — all from one place.
Try Blueprint SEO today for free for a limited time!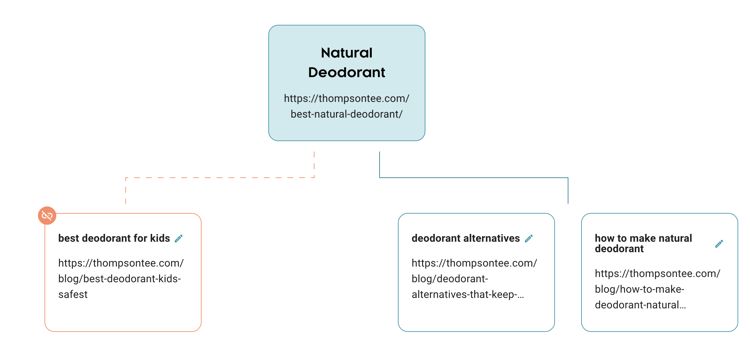 2. Moz
Moz's SEO tools are essential for any content marketer, particularly for tracking keyword performance and movements.
Use the Rankings feature to track focus keywords and monitor organic positions. You can also analyze keyword jumps within various timeframes to identify which pieces of content might require an optimization or overhaul.
3. SEMrush
SEMrush is full of powerful features that content marketers need to have in their arsenal.
We strongly recommend using SEMrush's SEO Content Template while you're writing or optimizing any content. Enter one or more target keywords in the template to produce a detailed analysis of top ranking competitors plus recommendations for readability, ideal text length and more.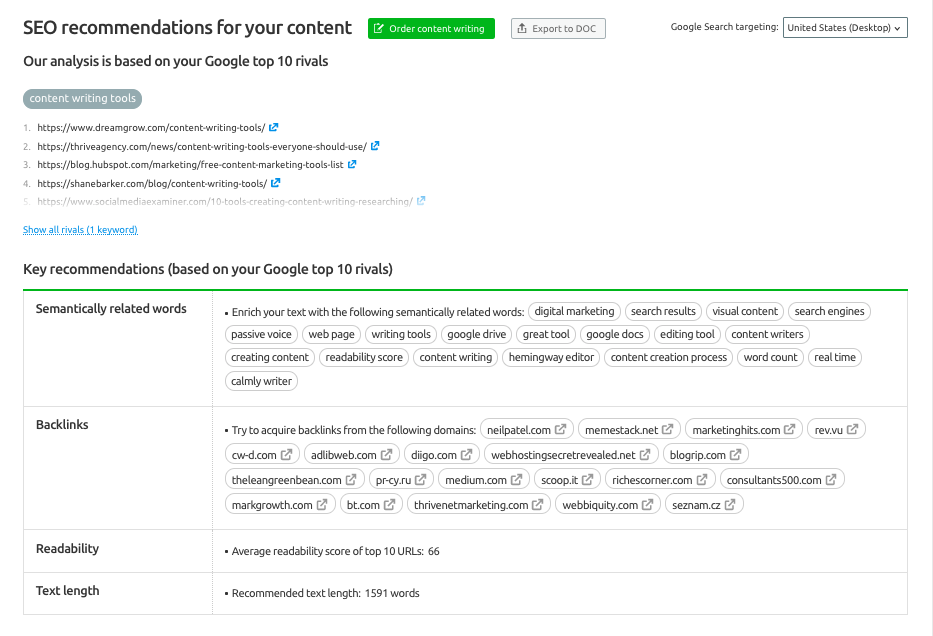 4. Google Trends
Google Trends allows you to assess and visualize global search trends happening in real-time. Compare up to 25 searches to see what topics, keywords or keyword variations people are searching for (and how they're searching for it) right now.
If you're writing about a current or constantly changing topic, such as the COVID-19 pandemic, SEO tools like Moz or SEMrush may be behind in reporting the most current data. In these situations, it's helpful to turn to Google Trends to get a better picture of the current search landscape.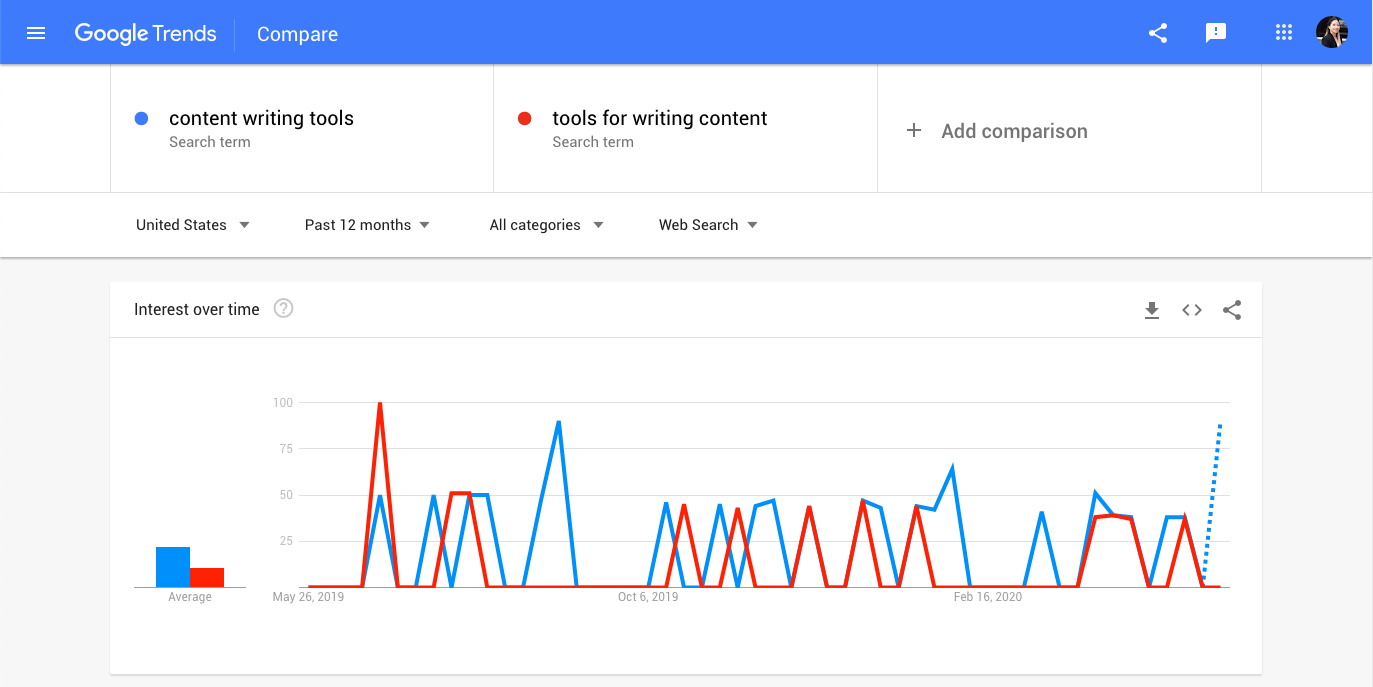 5. Yoast SEO
Yoast is a WordPress plug-in that reviews your written content for necessary SEO elements, such as keyword usage, headings, alt text and internal linking.
Yoast can determine if your content incorporates the focus keyword naturally throughout the copy, has proper headings (H1s, H2s or H3s), links to authoritative sites and more.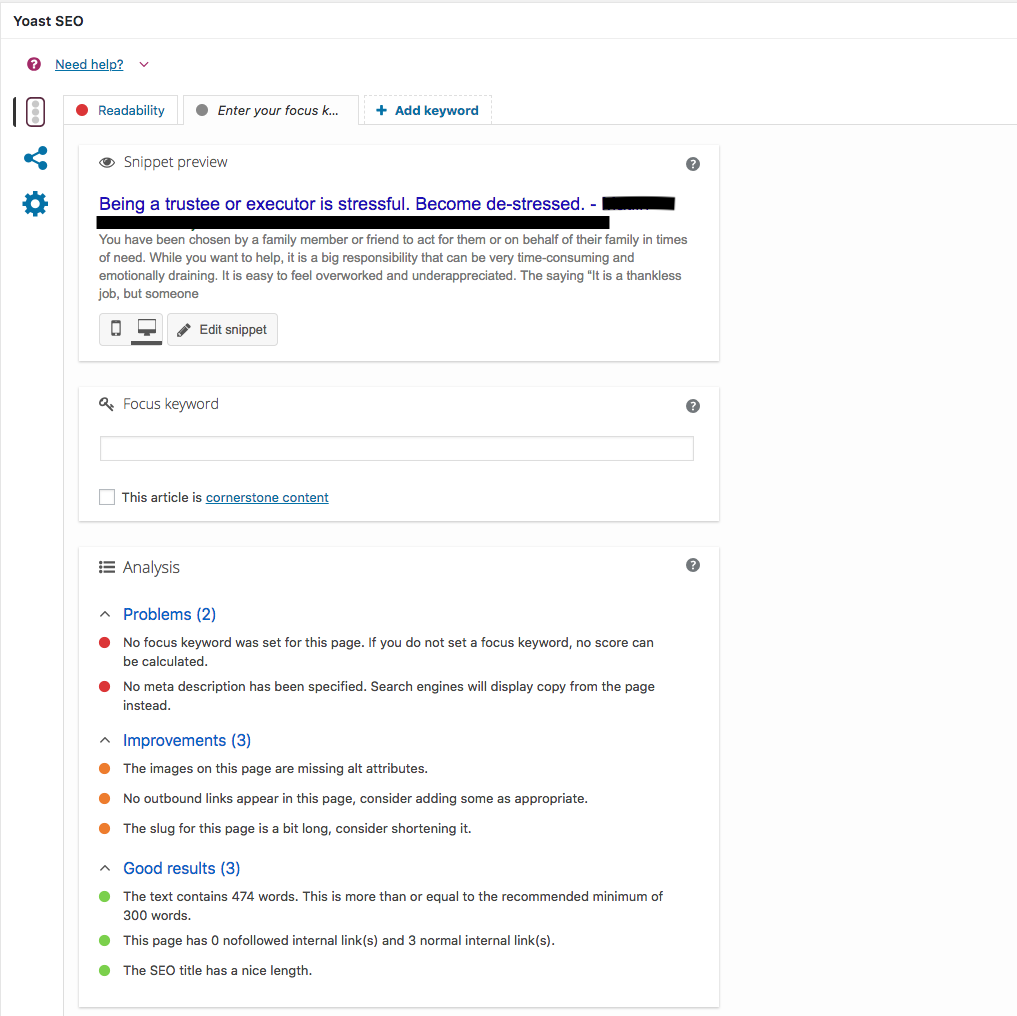 6. Hemingway App
Readability is crucial for SEO. The Hemingway App turns lengthy, complex sentences into bold and clear statements. It's great for making your content more digestible.
Just copy and paste your content into the Hemingway App and you'll get suggestions for simplifying your writing.
7. Thesaurus.com
To enrich your writing, use tools like Thesaurus.com to find synonyms and avoid keyword stuffing and repetition.
In case you haven't heard, keyword stuffing is harmful to SEO. Maintain an ideal 1-2% keyword density by integrating your focus keyword naturally throughout the text and using different vocabulary where it makes sense.
8. Capitalize My Title
Capitalize My Title instantly applies the correct capitalization to your headings. Using consistent titles and headings across your content keeps your site's credibility in check.
See below for a demonstration on how it works.

9. Unsuck-It
If you're writing for a B2B company, your content can quickly fill up with business jargon like "baked in," "bucketize," or "circle the wagons."
Use Unsuck-It when you want to clearly explain a concept instead of using an ambiguous phrase.
10. The Readability Test Tool
Is an important blog post performing far worse than others? Does one of your pages have a surprisingly high bounce rate?
For more insight into your content's readability, check out the Readability Test Tool, which allows you to see in one view how readable your content is.
If you notice more orange and red bars (vs. yellow and green), it's a sign you may want to revise the language on the page.
11. Check My Links
Broken links can negatively impact SEO. It's a good idea to manually check all links before you publish a piece of content, but you should also review them once your content is live.
Check My Links is a free Google Chrome extension that can instantly identify any broken links on a page. Navigate to your content and activate the extension to find any errors.
Editing Tools for Content Writing
These three editing tools will help you polish your writing to perfection:
Associated Press Stylebook
Grammarly
Cliché Finder


1. Associated Press Stylebook
Not sure if you're supposed to spell out 'ten' or write it as '10'? Wondering if you should use an em dash instead of a comma in a sentence? Turn to the AP Stylebook for the clearest cut guidelines. It's the content writing industry's bible.
2. Grammarly
Grammarly automatically catches grammar errors and readability concerns in your writing.
Just copy and paste your work into a new document, and Grammarly will quickly scan for spelling, punctuation, passive voice, wordy sentences and more.
You'll also want to take advantage of Grammarly's Plagiarism Checker, which runs your content against other millions of other internet sources for infringement. This feature is available with a Grammarly Premium subscription.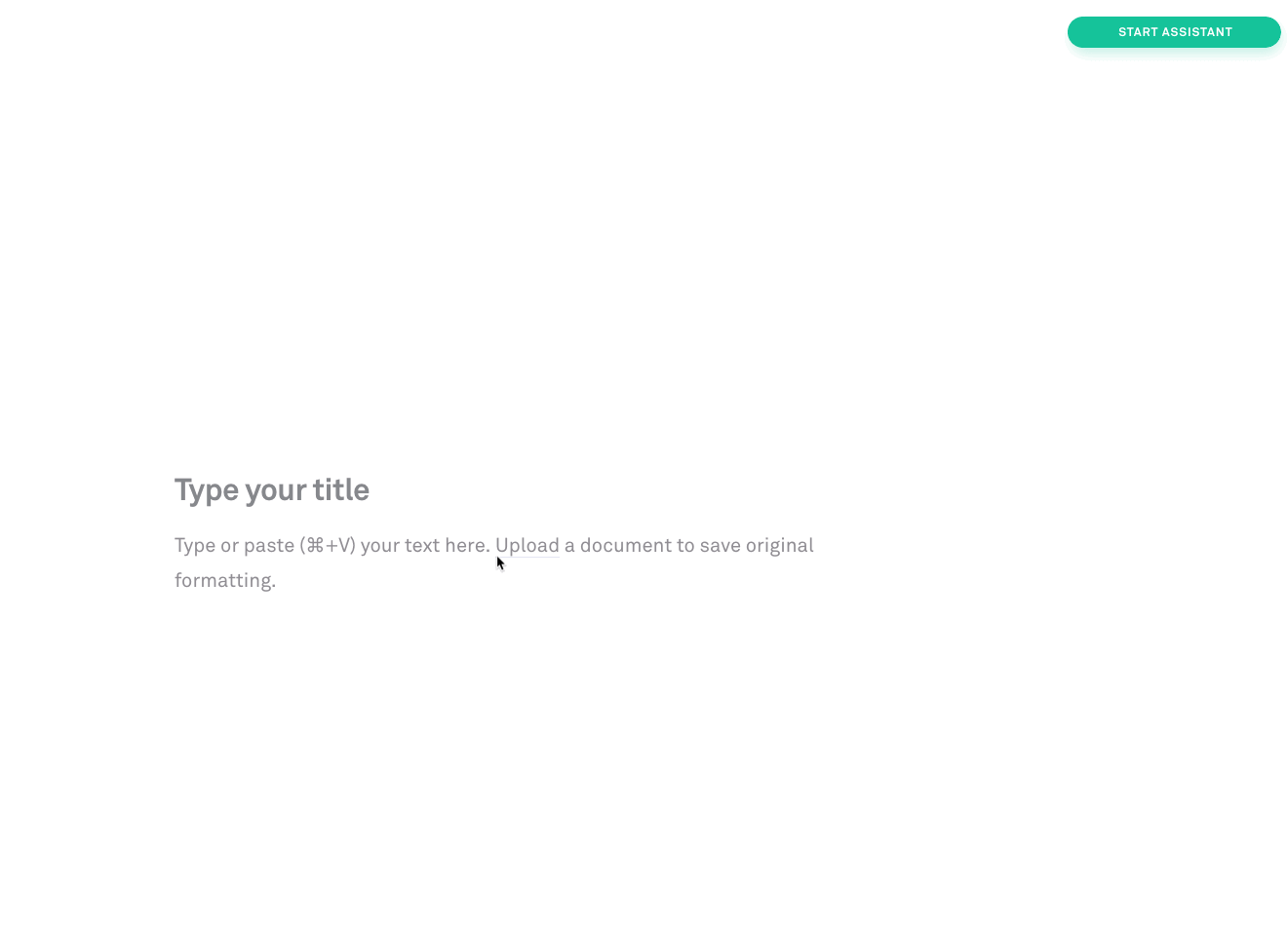 3. Cliché Finder
When you write with clichés, readers may have difficulty understanding. Cliché Finder helps you eliminate obscure phrases and challenges you to be as specific as possible.
Productivity Tools for Content Writing
While writing, it's best to embrace TURD (The Ugly Rough Draft). But this takes practice, and if you're like most writers, you criticize words the second they hit the page.
To help you get into the 'write now, edit later' mindset, here are four tools to help you stay focused:
BlindWrite
Zen Pen
Microsoft Word Focus Mode
OneTab


1. Blind Write
BlindWrite blurs your words as you type them so you can't see what you're writing. It's great for developing Ugly Rough Drafts and prevents you from overanalyzing your work before you even finish a sentence or paragraph.
To use BlindWrite, enter your topic and a time limit for writing. After time is up, you'll be able to see your words.
2. Zen Pen
If you prefer to see what you're writing but still want to avoid distractions, try Zen Pen.
Zen Pen is another minimalist writing tool that only shows black words on a white background. Use full screen mode so you're not tempted to check Facebook or your email in the middle of a grind session.
3. Microsoft Word Focus Mode
If you use Microsoft Word to write content, try Focus Mode to improve your productivity. Open up a document and click "Focus" in the bottom right corner of your screen.
Your screen will fully transform into a white document, revealing only the words you type into it. Formatting toolbars are hidden until you hover your mouse over the top portion of your screen.
Note that Focus Mode may not be available on all versions of Microsoft Word, depending on your software and operating system.
4. OneTab
OneTab is a Google Chrome extension that collapses all your browser tabs into one list of links. Stay organized and focused on the task or Google Doc at hand without being tempted by other distractions.
If you have other tabs saved for research, statistics or notes, you'll also find OneTab helpful for keeping everything centralized.
Enhancement Tools for Content Writing
Don't underestimate the power of adding finishing touches to your content. The right image, GIF or infographic can make a big difference.
55% of visitors will spend 15 seconds or less reading your blog post. If you want to command their attention, you need to use more than just words.
Here are some tools you can use to make your content dazzle and stand out from competitors:
GIPHY
Canva
CloudApp
Unsplash
Pexels
HubSpot Stock Photos


1. GIPHY
Pull animations from GIPHY when you want to make your content funny, endearing and relatable. GIFs help express a feeling or convey an idea. They add movement to static content which helps catch readers' eyes.
2. Canva
You don't need to be a graphic design wiz to create awesome images. Canva provides templates, stock photos and thousands of other text and design elements to help you create beautiful and professional images.
3. CloudApp
CloudApp is a screen recording application available for download. Use screen recordings when you want to demonstrate to your readers how something works on a computer. (I used it for all the screen recordings in this post!)
4. Unsplash
Let's be real: It's difficult finding free, high-quality stock photos that aren't cheesy. Unsplash is a free resource filled with eye-catching, artistic stock photos that are perfect for your next blog or article.
5. Pexels
Pexels is another free stock photo site. The 40,000-photo library guarantees 3,000 new photos on its site every month.
The photos are high quality and taken by professional photographers.
6. HubSpot's Free Stock Photos
HubSpot also has their own library of free stock images, with hundreds of photos to choose from. Add this resource to your list as another destination for stock photography
Elevate Your Content Strategy with Human
Content creation requires extensive time and effort. Many companies and marketing departments don't have the capacity to execute (and continually improve) an end-to-end content marketing strategy.
Our award-winning content marketing team at Human is laser focused on creating thoughtful content strategies and writing and optimizing quality pieces that generate traffic.
Need help with content writing, strategy or optimization? Let's chat!