If you've ever shopped on Amazon (who hasn't?), you're likely aware of the vast number of counterfeit products on the site.
As you might imagine, these knockoffs on Amazon can severely hurt search engine rankings, traffic and revenue for original, authentic brands.
We recently faced this dilemma for one of our clients and worked hard to tackle the issue firsthand. We now have hard data showing the impact - beyond just the guessing of lost revenue.
This case study is simple and clear. However, the issue was not clear as our team tried to work through it.
Our agency struggled to decipher and report hard metrics as to why the same amount of website visitors were now converting at half the rate they were before.
After months of watching trends and testing theories, we hypothesized that the declining conversion rate was due to the increasing amount of knockoffs beginning to show up on Amazon. Prospective customers would compare prices and end up going with the Amazon alternative.
Essentially, our hard-earned organic website visitors were landing on, browsing and learning about our client's unique product. But those prospects also searched the web for independent reviews, discounts or expedited shipping from Amazon (as many online shoppers do).
As potential customers searched for our client's trademarked product or company name, they often landed on Amazon or Google shopping links. Customers would purchase what they thought was the same product at half (or even a third of) the price.
But that was still just a theory. How could we prove it without a doubt?
When something outside of your site impacts your customers' on-site buying behaviors, it's nearly impossible to gather actual data. We couldn't back up our assumptions as to why revenue was taking a nosedive.
Luckily, after a long and drawn-out process, our client successfully got Amazon to remove all knockoffs of their product from the website altogether.
Now, we're able to measure the before and after impact of on-site ecommerce conversion rate based on the addition and removal of respective counterfeit products on Amazon.
Here's the timeline, facts and results:
Q3 2019: Counterfeit products begin appearing on Amazon at half price and acquiring numerous user (real or fake) reviews: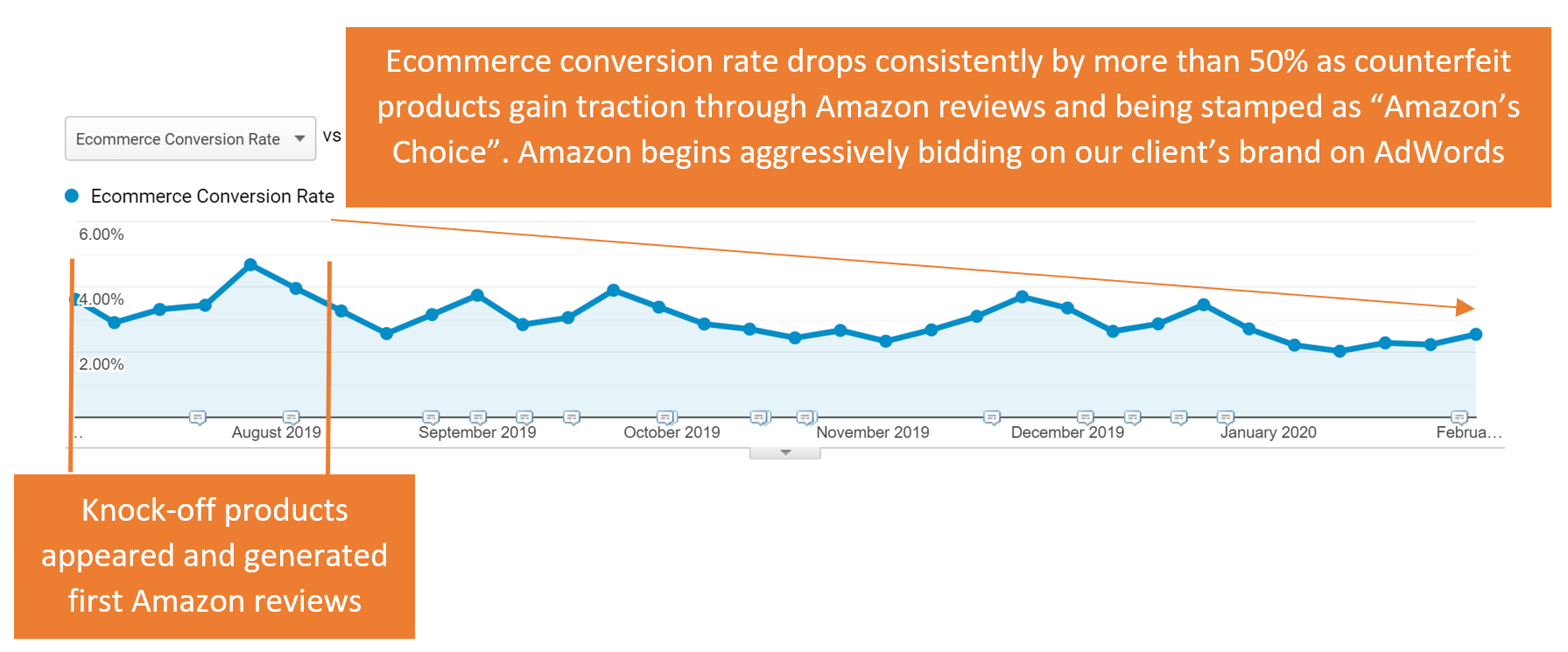 Q3 2019: Amazon labels counterfeit products with the coveted "Amazon's Choice" sticker
Q4 2019: Amazon's AdWords search impression share against the client's brand term reaches the highest ever at 75%. Visitors land on Amazon results and knockoff products, despite searching the client brand term.

Q3 2019 - Q1 2020: On-site Ecommerce conversion rate drops over 50%, and consistently week after week. Regardless of promotions, paid media and general traffic fluctuations, we aren't able to overcome the pressures aggressively driving down web store revenue.

Mid-February 2020: Client wins case against Amazon counterfeits. Amazon removes all three counterfeit products.

Week of February 23, 2020: It's been one week since the Amazon products were removed. The on-site Ecommerce conversion rate is now up 94% compared to the previous 45 days!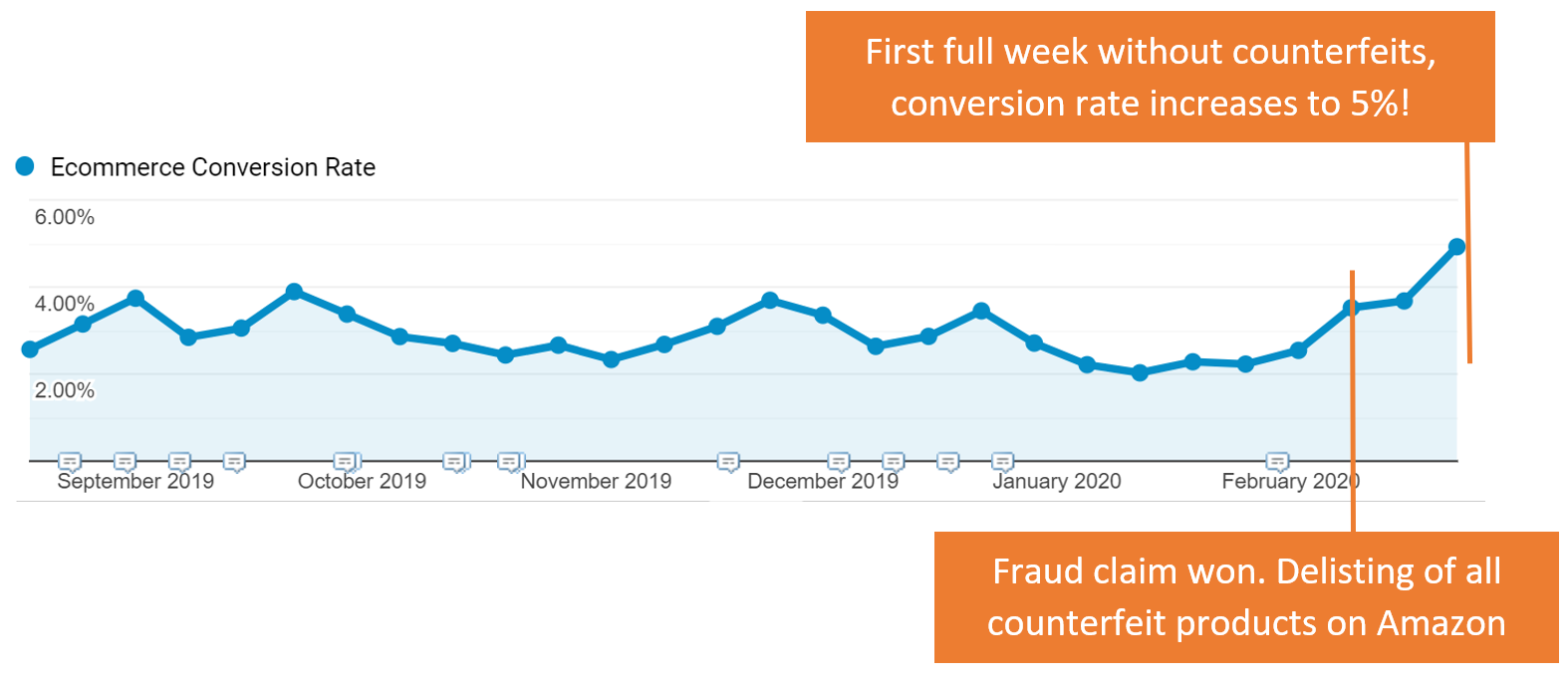 The bottom line? We're now experiencing all-time high ecommerce conversion rates.
It's important to know that our client chose not to sell their products on Amazon to maintain a one-to-one customer relationship and not depend on entirely on Amazon. Many brands are now choosing this path versus handing the customer over to Amazon.
As ROI-savvy marketers, we highly recommend keeping an eye on your analytics for patterns of substantial traffic yet rapidly declining conversion rates.
If you think your business or client might be in a similar position, be prepared to face one of retail's biggest culprits: Amazon.
Learn more about Human's expert ecommerce marketing services and how we can help grow your business with impactful digital strategies.