Email remains the highest ROI marketing channel for ecommerce businesses. But striking the perfect mix of design and messaging takes time that most ecommerce owners simply don't have.
Relying on email templates can save you some of that hassle. After all, why reinvent the wheel when you can leverage tried-and-tested templates?
The best ecommerce email templates serve a clear purpose and offer value to your email list. In this post, we offer high-converting email templates for top revenue-driving email campaigns:
Welcome Emails
If you don't already send new subscribers welcome emails, you may want to add these crucial templates to your marketing strategy.
Prospects are most engaged and primed to buy immediately after opt-in. So it makes sense that welcome emails are opened 4 times more than regular marketing emails.
Boost clicks and other engagement metrics by including a call-to-action that encourages a return visit to your website.
Thompson Tee does this by including a discount code in their welcome pitch to new email subscribers. Offering a tempting incentive helps Thompson Tee capture more sales from this captive audience.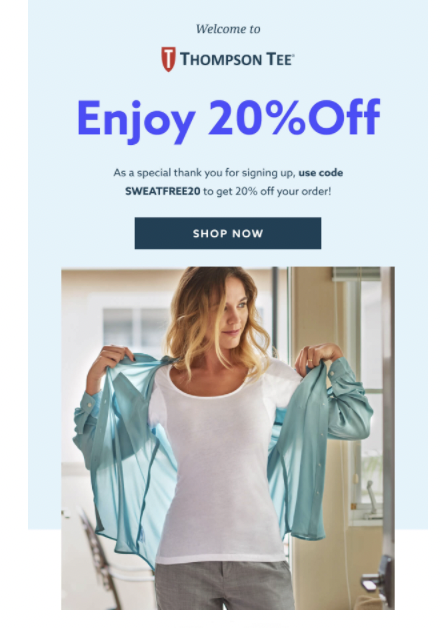 Also keep in mind that new subscribers are new to your brand. While you have their attention, educate them on the benefits of your product to gain buy-in.
Thompson Tee does just that by highlighting its unique value proposition in this initial email. By including a "Shop Now" CTA accompanied by popular products, Thompson Tee makes it easy for new subscribers to purchase.
Re-introducing these key points reminds prospective customers why your company is the best choice and reaffirms their purchase decision.
Paired with personalized product suggestions or recently browsed items, and your email is sure to stand out among more generic competitor messaging and potentially irrelevant product highlights.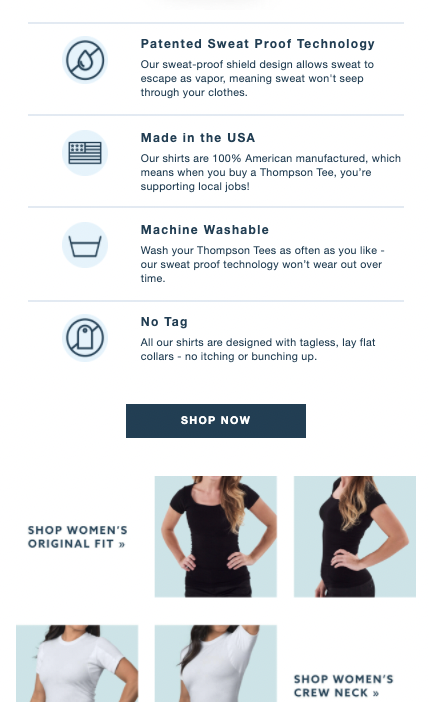 Softies also welcomes new subscribers and promotes popular products in this simple yet effective email template.
This approach leverages the success of specific products to generate further interest. Similar to Thompson Tee, Softies' welcome email restates the value customers can expect and shares top products
Both are effective welcome email templates that you can send to new subscribers (or better yet, test!)
Limited-Time Promotional Email Templates
Consumers don't want to miss out. That's why limited-time promotions are so effective at driving revenue.
In fact, exclusive offers, particularly time-sensitive offers, generate 48% more revenue per email. Use them to convert on-the-fence prospects, reward loyal contacts and gently nudge customers who haven't visited your site in a while.
Take a look at Kwik-Hang's promotional email template, which includes 10% off promo and expiring deadline: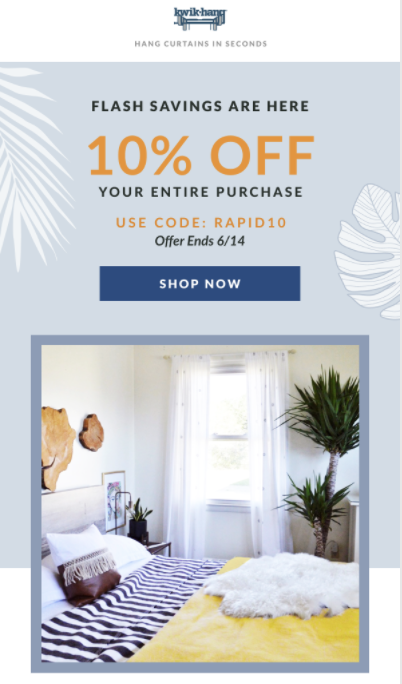 The offer and "Shop Now" button are prominently featured at the top of the email.
This makes it very easy for customers to understand the breadth of the offer, what it applies to and how long they have before it's no longer available — without having to read walls of text or fine print.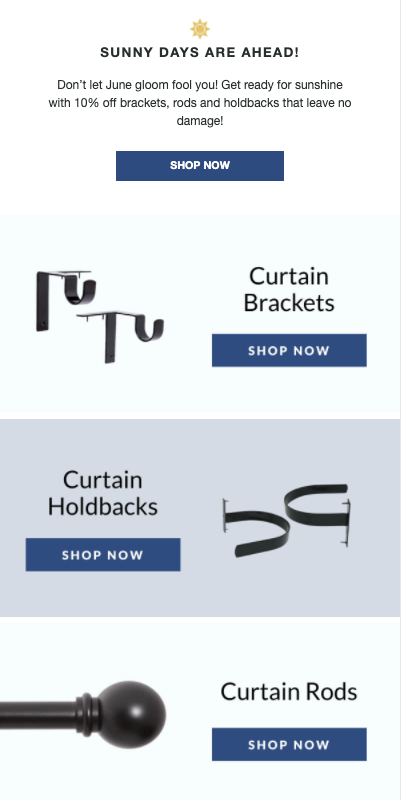 Further down, Kwik-Hang's email takes the opportunity to highlight their most popular products. This overall structure is clean and effective since it takes the guesswork out of the redemption process for your contacts.
Review Request Email Templates
Customer reviews are an excellent use of social proof to build trust around your business. Asking for them, however, is an art in itself.
When making a request, you'll want to put yourself in the customers' shoes to better hear the tone that your email conveys. Make a point of stating that it will only take a few minutes of their time, and express your interest in receiving constructive feedback. This overall tone showcases your genuine desire to continuously improve the customer experience.
Collectible Supplies keeps the request quite brief (another effective strategy). If you're already asking for a time-investment, don't let the inquiry also eat into their time. Their tone is also polite, genuine in their pursuit of feedback and thankful for the customer's time and input. They also offer different feedback options for extra convenience.
Hot tip: Make sure one of your review options links to social media! Many customers look at a company's social profiles before making a purchase.
Cart Abandonment Email Templates
Nearly 70% of consumers abandon their online shopping carts. If you're not reminding customers to complete their purchase, you're leaving an enormous opportunity on the table.
Cart abandonment emails are a highly effective way to recapture lost sales and leads.
In fact, 50% of people who abandon their online shopping cart will purchase when nudged with remarketing!
Equipe's abandoned cart email template reminds customers about the items they left behind and leaves a subtle note that these popular items may run out of stock. This introduces a sense of urgency and is a nod to the popularity of their products (more social proof!)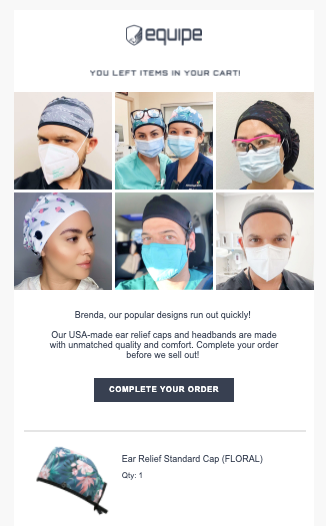 The lower portion of the email offers similar product suggestions to encourage prospects to browse again.
It's a smart way to help people locate alternate products that may better suit their needs and expectations.
In a similar approach — but slightly different email design — Kwik-Hang notes the high demand for their products. They set the expectation that customers will have to wait longer for their order as the company restocks sold-out items.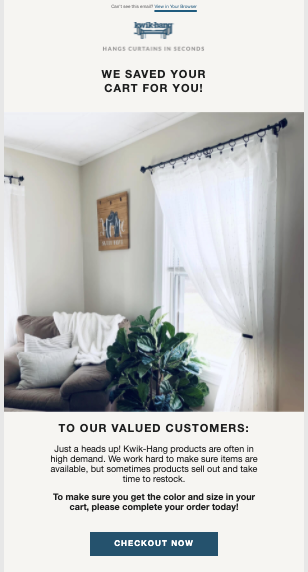 If your product offers distinct value from the competition, abandon cart emails are the perfect place to make that known.
In this template, Kwik-Hang restates key points about their curtain rod brackets that differentiate them from others on the market.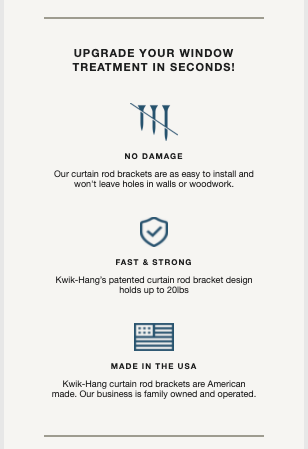 Both template designs reiterate the value customers get from completing their purchase and overcome potential objections.
Ultimately, the best email templates for ecommerce are personalized to your customers and feature key ideas about your business' value proposition. These will serve you better than a generic email approach.
A/B testing plenty of templates and copy variations will lead you to the messaging that motivates your audience to act.
Thinking you'd like to start a conversation about ecommerce email marketing? Connect with one of our ecommerce experts today so we can discuss your goals!