You pump out new, useful blog posts every week — as a savvy content marketer should. After all, effective blog SEO leads to more website visitors, email subscribers and a fuller inbound marketing funnel. The problem is: only a handful of blog posts ever bring in organic visitors.
So what about those blog posts that never see the light of day?
Instead of condemning your underperformers to blog purgatory — why not give them a second lease on life? These simple blog SEO tips can revive your old content to increase blog traffic:
Reevaluate the keyword targets

Start with core on-page SEO elements

Reevaluate content quality and relevance

Improve the readability score

Boost your internal linking strategy

Update the publish date



Need expert content marketing help? Reach out to Human today.
Why Blog Optimization Is Important
Giving your existing blogs a facelift is critical to any successful content marketing strategy. Our content team finds blog optimization to be highly effective for our organic efforts.
You may have already experimented with repurposing content — or transforming existing content for a new audience or medium. This is an ROI-revving tool our content team also employs.
But one we've found to be equally — if not more — effective is reoptimizing content in its current state.
By polishing your content with up-to-date information, targeting additional, relevant keywords or making edits to improve readability, you're signaling to search engines that you're an expert in your field. Search engines will surface your content as authoritative and trustworthy, and award you with an increase in your organic rankings.
Free Download: 4 Steps For Producing Great Content That Search Engines Will Love
Keep in mind – there are plenty of reasons your blog post might not rank now. These strategies will only work if you've addressed potential technical SEO elements like site speed, spammy backlinks, etc.
How to Optimize Blog Posts for SEO
An SEO-friendly blog consists of two main components: technical SEO and content SEO. (You might also hear the terms "on-page SEO" and "off-page SEO").
Technical SEO elements include site speed, site structure, mobile friendliness, site security or backlinks, to name a few. If you have any off-page SEO issues, you should take action to address them before optimizing your on-page content.
Once you've checked off critical technical SEO items, take these steps to buff up your content and boost traffic to your blog:
1. Reevaluate the Keyword Targets
First, you need to know whether your keyword target is out of reach.
Do a quick Google search on your keyword and see who's showing up. If page 1 is stacked with reputable sources or high-authority websites (and you're new to the blogging game), the keyword is probably a long shot.
You can also use keyword tools like Google Keyword Planner, Moz, SEMrush or HubSpot to gauge keyword difficulty. If organic traffic is your primary goal for a blog post, aim for keywords with low difficulty.
EXPERT TIP: Use Google Keyword Planner to search for new keyword ideas. To filter the results, fill in the "keywords to include" section with your core keyword target and filter by "low" competition. Double-click on "Average Monthly Searches" to sort from high search volume to low.
However, don't let industry giants scare you when competing for keyword targets — especially if the term is closely related to your website or offering, and targets user intent.
If it's a highly qualified, strategic keyword for your business, just be prepared to invest extra time making that blog post or resource exceptional. For instance:
Consult internal thought leaders on the topic and incorporate their input

Provide actionable advice and compelling research

Leave no stone unturned: Make sure you have the most robust resource out there


You'll also want to examine the landscape for additional, secondary keyword opportunities. This includes:
Keywords your blog is currently ranking for (that you didn't know it was ranking for)
Relevant, related keywords that your competitors are ranking for that you can expand upon in your existing blog


SEMrush's Keyword Gap Analysis is useful for uncovering secondary keyword gaps and improving your optimizations.
2. Start With Core On-Page SEO Elements
Once you have a strong keyword opportunity, do a quick on-page SEO check to ensure no critical ranking factors are missing in your blog post.

These include:
URL: Include your keyword phrase in the URL. If you're updating an old URL, make sure to 301 redirect the old blog post to the new one to avoid 404 errors.
Meta title: This is the headline that appears in search results or when scrolling over the page tab. Search engines like Google cut off your title after 70 characters. Naturally incorporate your keyword target in the meta title, but keep it short and sweet.
Meta description: The meta description is a 1-3-sentence overview of your page that appears below your meta title in search results. Although not a major ranking factor, the meta description is what entices readers to click through to your page — which does affect your search engine ranking. I

f someone searches for your keyword, Google also bolds it in search results. So it's always smart to include your keyword here.

A single H1 defined: Every blog post should have one keyword-driven H1 defined per page.
Image alt tag: Add an image that speaks to your topic, and incorporate the SEO keyword target in the image alt tag.
Not sure if your blog post is missing these critical SEO elements? Install the Google extension Open SEO Stats, and you'll see exactly what Google does on any webpage. Other inbound marketing tools like HubSpot, Moz and the Yoast WordPress plugin also offer this insight.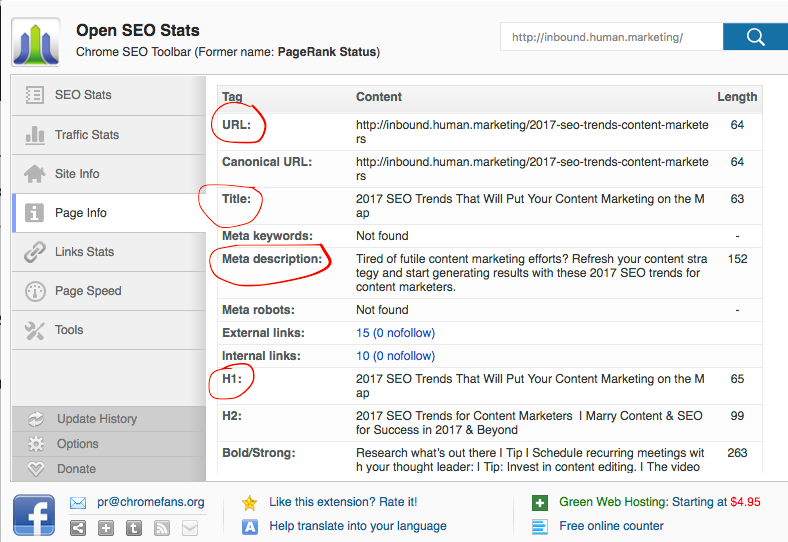 3. Re-evaluate Content Quality and Relevance
You have your low-hanging keyword target and all the technical SEO elements in place. So what now?
An insanely easy way to improve the quality of an old blog post is to update or expand upon the content. First, go back to your blog research stage and investigate the top 1-5 pages currently ranking for your keyword target.
Ask:
What information do these pages offer that yours is missing?
What critical information do these pages lack?
Do the top results and featured snippet answer the search query effectively?
Are there any new industry updates or research you could add?
Do these posts speak to your segment? How could you differentiate the audience?
Are you using language that's too advanced or too basic for this audience?
You should also review the queries under the "People Also Ask" section of any Google search result and fill in any missing gaps that might be relevant to your blog. (AnswerThePublic.com is also a helpful resource for probing related questions.)
Few people go back to update their blog posts. If you run a technical blog — where information changes with every new product release or update — you have plenty of opportunities to update your content and leapfrog competitors.
Increased word count and keyword density are factors search engines evaluate. But don't just stuff your content with more keyword instances and call it a day. Ultimately, your blog post should offer the most comprehensive, accurate, in-depth look at the topic. Sure, this requires extra time and research. But having the most helpful content out there is the best thing you can do to improve rankings.
EXPERT TIP: Focus on content density (per-word value) instead of length in your writing.
4. Improve the Readability Score
Let me be upfront: Readability does not directly affect SEO.
So why am I bringing it up?
Although search algorithms don't factor in readability, they do look at time on page, bounce rate, social shares, etc. Readability influences all these. Using short, scannable sentences moves readers through your page and keeps them engaged.
To start, let's clarify what I mean by readability.
Readability refers to how easily a reader can scan and consume your content (the lower your score, the more difficult your text is to read.)
Factors that affect your readability score include:
Sentence length
Paragraph length
Flesch-Kincaid readability score
Percentage of sentences with passive voice
Subheading distribution
Percentage of sentences with transition words
Here are some simple ways to improve readability:
Cut out fluff words and bulky phrases: Eliminate all words that add no value. If you can remove a word (or say something in fewer words) and the sentence meaning still stands, leave it out.
Vary sentence length.
Limit sentences to 25 words (and aim for fewer than 20 words per sentence).
Reduce passive voice.
Break up text with H2s, H3s, images, graphics, etc.
Use tools like the Yoast SEO WordPress plugin to test your content's readability and identify areas for improvement.
5. Boost Your Internal Linking Strategy
Internal links help drive readers to your other related posts where they can learn more about the topic.
After updating or expanding your information, review the post for internal linking opportunities. Make sure you're updating your older posts to point to your newer blogs, too.
It's also a good idea to internally link to the most relevant, core pillar pages that best speak to your topic's authority.
Learn more about how topic clusters can help you reorganize your content, improve internal linking and drive even more organic traffic.
6. Update the Publish Date!
I learned about this tactic at HubSpot's INBOUND conference. After giving your content a well-deserved makeover, update the publish date and promote it across social channels, email campaigns or ads.
When adjusting the publish date, our team has noticed a distinct (and almost immediate) jump in both rankings and search traffic.
EXPERT TIP: Don't forget to track the performance of your updated blogs. Dive deep into your content KPIs regularly so you can adjust your strategy accordingly.
Of course, you shouldn't abandon your new content development efforts. But dedicating a few hours a week to revamping underperforming blog posts will dramatically improve their ranking potential and organic traffic to your site.
Looking for more insider content marketing tips? Stay up-to-date with our blog!