We recently needed to obtain enhanced customer demographic data for an e-commerce client. This was my first time enriching a B2C customer list, and I found the data looks much different than what you might want in B2B data enrichment.
When researching for customer data enrichment companies and similar searches, surprisingly not much information turned up. The common one was Experian, though no one else really talks much about it on the web.
So here's a quick overview of my results and experience:
As a disclaimer, I was slightly skeptical before using Experian purely due to its outdated online system. But I eventually got my data and the job done. The process turned out to be pretty straightforward and only cost $13 per every thousand contacts.
With some digging, you'll find this page, which is ultimately what you need to get started: https://www.experian.com/small-business/app/MIS_CVNOW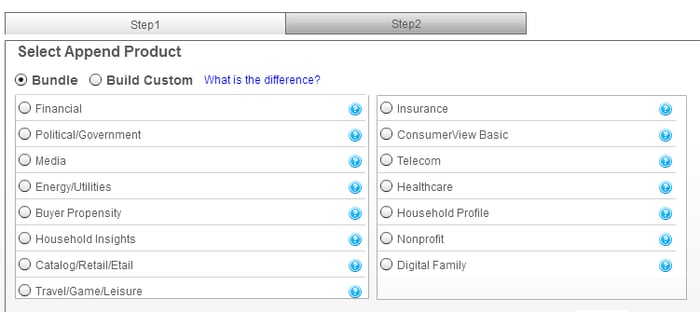 From here, select an existing bundle or pick exactly what demographic data you need. Consumer View Basic covers all the core information you need:
DOB
Age
Household Income
Martial Status
Gender
After selecting your data type, proceed to step 2, which asks you to upload a list. There are two main types of lists you can upload:
Email Only
Full Customer Information
Email only gives you a 25-30% match rate. A full profile of your customer (name, address, city, state, zip) can give you a match rate of 85%!
Next, download the Experian template, and upload your data accordingly. Once you upload, you'll likely see a message saying Experian will get back to you soon with your sample match data. I never heard back, so after a few days, I emailed the company and received my match data within a couple hours.
Security & Privacy Requirements When Using Experian
If this is your first time enriching data from a third-party site, you're probably wondering: Is this legal, and is my list secure?
Enriching your data from Experian is legal if everyone on your list has consented. Usually consent is in the form of a privacy policy the customer agrees to by nature of opting into your list, buying a product or visiting your website. However, you must have a policy in place that is accessible and clear. If you don't have a visible privacy policy on your website, and it's not in a form or contact everyone on your list signed, then it's not legal.
If you do have a privacy policy on your site, you'll need to check the section referring to sharing customer data. Some privacy policies make a provision for you to be able to obtain additional demographic data from Experian while others don't.
As far as the security of your customer list goes, you would hope that you'd be in good hands with a reputable company like Experian. Everyone will have their own view on this, but I did the research about the service and Experian's security policy regarding the list and decided to move forward without issue.
Just be sure not to include any other data in your upload beyond what's needed (name and address). There is no need. You can always match up your data using a unique identifier after you receive your appended list back.
You Have Your Robust Demographic Info — what Now?
Information from data enrichment can be an amazing marketing asset. Now you can:
Define better more specific personas for you ideal customers
Define lifetime value (LTV) by age, gender, income, etc.
Ensure you really know who your customers are
Identify your best target market
Tailor your marketing to those demographics with higher average purchases and LTV
With one particular client, we learned with confidence that even though the product was mostly geared towards and used by Men, it was Women who were doing most of the purchasing on their behalf. That changed the way we thought about some of our marketing campaigns.
The list is endless, but in the end, you should be able to customize your marketing message, marketing channels and truly tune the ROI of your marketing investments accordingly.
Do you need help better understanding who your customers are and how to reach them in the most effective way? We can help.