12/12/18 Update – Announcing the Jira Human Utilization Dashboard (Scroll to the Bottom for More...)
First of all, I want you all to know that this article was written with knowledge acquired through hours of hard work, late nights, stress eating and banging my head against the wall so that YOU can excel in agile project management.
My story of modern-day innovation starts like any other: with a failed Google search. I tried searching for "using jira software projects for marketing". I was expecting to come up with the various ways that marketing organizations can customize JIRA Scrum Software Development Projects for their unique use case. I was dismayed to see that the first 6 organic results were the Atlassian blog describing how to manage marketing projects with JIRA Business Project Management. That's not what I wanted. I needed to use the robust features of JIRA Software Projects to run complex, agile marketing projects.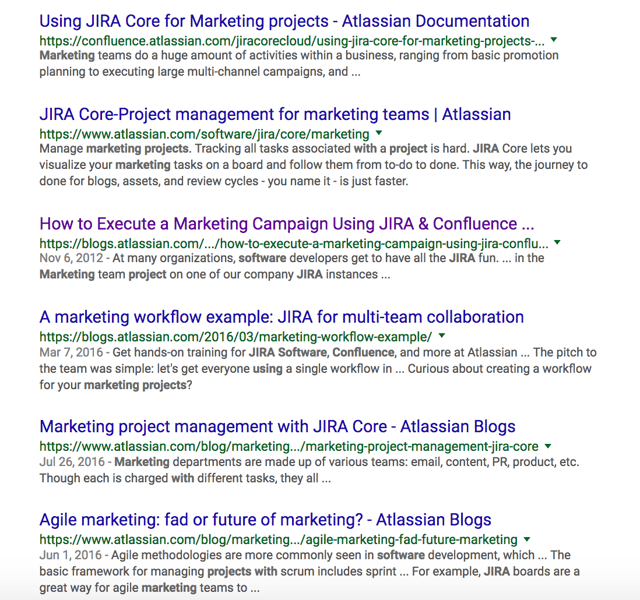 Why We Migrated from TeamWork to JIRA
Human Marketing's biggest goal for the year is to establish a leading-class project management system and processes. The first step in the right direction for us was to migrate off of TeamWork to JIRA. There was nothing particularly wrong with TeamWork. It just didn't have the capacity to scale with our team in terms of the KPIs we wanted to extract (Capacity, % Utilization, Forecast vs Actual Hours, etc). We're projected to double in size this year (at very least). To keep up with the growth, we decided to be proactive and adopt agile project management before the growing pains set in.
Since I couldn't find another company to copy via my Google search, I had to use my whole brain to figure it out. Luckily, this wasn't my first rodeo with JIRA. Prior to becoming Human Marketing's marketing director, I assisted in 3 company-wide JIRA software implementations. I've had hands-on exposure to several project management systems. None that I've used are as flexible or robust as Atlassian's JIRA.
What JIRA has that TeamWork doesn't have:
Capacity planning
Team utilization
Billing/invoice (we're still having challenges getting this to work)
Sprint planning
Scrum boards
Choosing JIRA was a simple decision. The hard part was actually migrating to JIRA Server. At the time, the migration was just a faint figure on the horizon appearing smaller than it actually was.
It was during this migration that I was faced with the most monumental project management migration of my working life. We underwent 2 migrations in Q1 of 2017. That's right. 2 migration in 3 months. We first migrated from TeamWork to JIRA Cloud, then from JIRA Cloud to Server. Surprisingly, moving from JIRA Cloud to Server was the hardest part of the whole ordeal.
The Difference Between JIRA Software Projects vs. JIRA Business Projects
JIRA has 3 project types: Software Projects, Business Projects, and Service Desk Projects. Software projects are structurally superior than JIRA business projects. I'll explain why as you keep reading.

Here's what you'll see in JIRA when you create a project. You're faced with the choice between 2 project types, each with 3 of their own subtypes:
JIRA Software Projects:
Scrum software development
Basic software development
Kanban software development
JIRA Business Projects:
Project management
Process management
Task management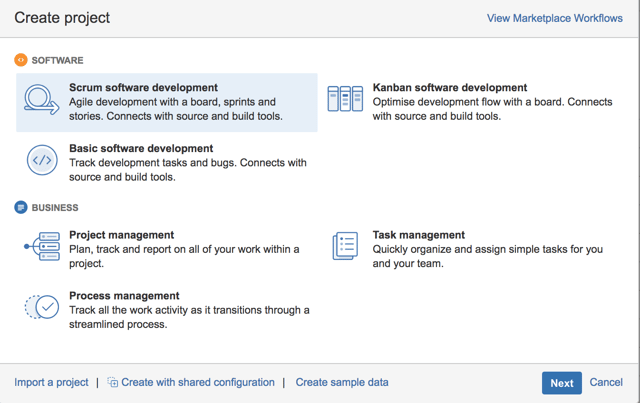 Scrum Software Development vs. Business Project Management
As a marketer, you'd think that using the Business Projects is more suitable to your case. However, if you want to do agile PM the right way, then you need to pick an agile project type.
JIRA Scrum Software Development Projects:
Agile development with scrum boards, sprints and stories
Basic agile workflow and issue type configuration
More issue types, by default
Good at breaking massive projects down, by the hour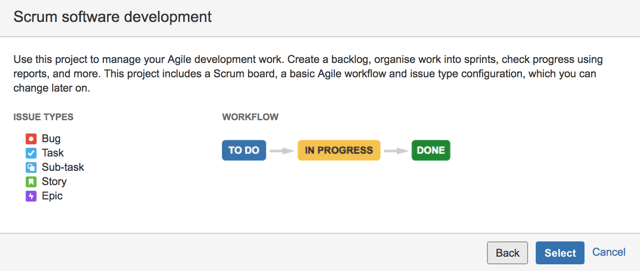 JIRA Business Project Management:
Made for simple projects
Doesn't have scrum boards
Doesn't have sprints or a backlog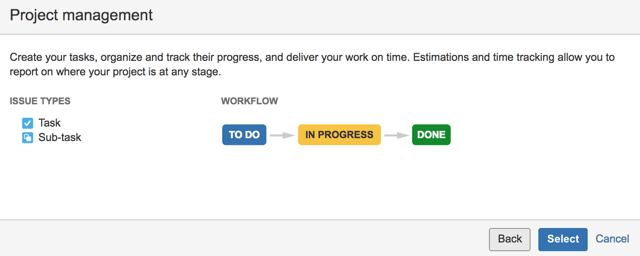 You can't have agile project management without scrum boards, sprints and stories. Understanding the power of agile, we chose to use JIRA Scrum Software Development Projects for all of our marketing and software development projects, alike.
Agile Marketing Projects Workflow
We use a very simple project workflow, because that's what works for us. One of the most critical parts of our agile project workflow is quality assurance (QA). It's so important to us that we've created a QA swim lane into our JIRA workflow and built a process to ensure that every deliverable has an associated QA task.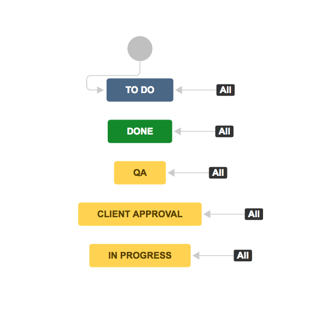 Using Agile Sprints for Marketing
One of the most life-changing parts of agile marketing for our company was Sprints. For many of our clients, we have monumental yearly goals to achieve. A yearly goal can be broken down into hundreds of tasks. Agile helps us make sense of all of those tasks that go into reaching larger project goals.
How We Set Up JIRA Marketing Projects:
Sprints span 2 weeks
Epics are defined as months of the year
Versions are defined as quarters of the year
In the JIRA Backlog, we create Sprints for each week of the month, plan them in advance, and budget time accordingly. We define Epics as months of the year to be able to plan the number of hours we're spending on each project. Assigning every task to an Epic helps us keep track of which tasks have been moving from Sprint to Sprint; these tasks are either projects that end up taking longer than a week or projects that have hit a roadblock that needs to be cleared up.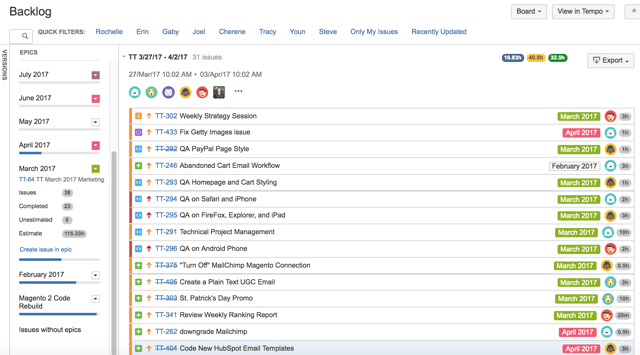 The scrum boards allow our project managers to organize and keep track of projects of all shapes and sizes into bite-sized tasks that team members can focus on weekly. We created quick filters so that each team member can focus on the tasks assigned to them.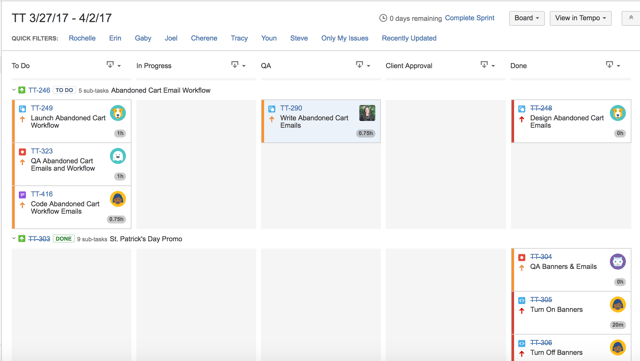 Our process for planning marketing projects up to a quarter in advance:
Half-day quarterly strategy meeting to define the project's big-picture goals
1 hour monthly strategy meetings to ensure that the team is on track to meet the quarterly goals.
30-minute weekly Sprint meetings first thing on Monday morning to describe high-priority tasks, roadblocks or capacity issues
Daily standup meetings first thing in the morning to check in on Sprint progress
Defining Issues Types in JIRA
One of the best parts of JIRA is the customization. We've made JIRA our own; our instance of it looks different than anyone else's, because we constructed it to suit the unique needs of our clients.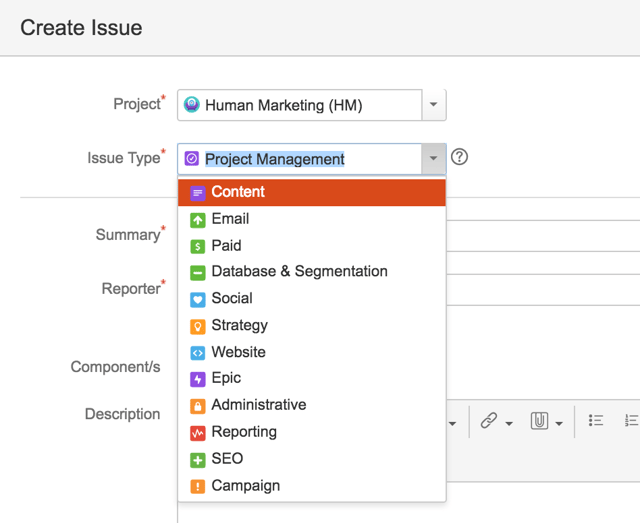 We created a global issue type for every category of work that our marketing agency does. We didn't do this for the pretty colors and cute icons. We did it because it helps keep our team organized and holds us accountable to our clients for the time spent in each marketing channel.
Issue Type Reporting with Worklog PRO
The main reason that we decided to customize our issue types was so that we could provide issue type reporting to our clients each billing cycle. Here's what an issue type report looks like using the Worklog PRO add-on: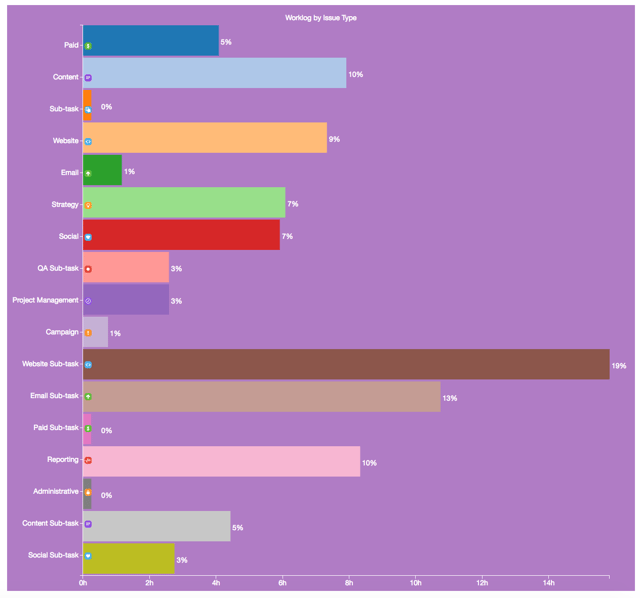 The most awkward thing about this report is that subtasks and parent tasks can't share an issue type. We had to create a differently-named issue type for each subtask. I wish there was a way to do a complete roll-up of like issue types. JIRA, if you're listening...
Not Enough Marketing Agencies Are Adopting Agile Project Management
For anyone who's been paying attention to Atlassian for the last few years, it's obvious that they want to get better user adoption from marketers. In an attempt to capture more project management market share--especially as it relates to marketing users--Atlassian announced its acquisition of Trello earlier this year. In my humble opinion, neither Trello or JIRA Business Projects are suitable for the faced-paced demands of a rapidly growing inbound marketing agency.
Atlassian needs to train and enable more marketers to properly adopt agile PM with JIRA Software Projects--not just to grow their market share, but to introduce marketers to the real way to manage projects. Until then, I hope this blog article provided you some information.
12/12/18 Update – Announcing the Jira Human Utilization Dashboard: Evolving Jira & Utilization Rates for Our Agency
Thanks to you, this blog has become very popular and is one of our top hits!
With that in mind, we want to update you on what we've built on top of Jira to take our agile marketing process even further.
Here at Human, we live and die by utilization rates (as most do most consulting companies). If your business isn't measuring productivity with using utilization rates, I highly recommend it.
Getting straight to the point...we use Tempo Timesheets to log time and extract utilization rate data to keep everyone on track. Until now, we were using Excel and a tedious, mostly-manual process to show everyone daily utilization rates vs. their goal.
Our development team turned this manual process into the world's most amazing Jira utilization report dashboard. This dashboard is a real-time app that integrates with Jira and Tempo...and it has the most kick-ass GUI ever. Our Jira Human Utilization Dashboard app is fun to use, awesome to look at, and encourages employee adoption.
Below are a few screenshots to enjoy!
This is what a user sees when they log into the Jira utilization dashboard: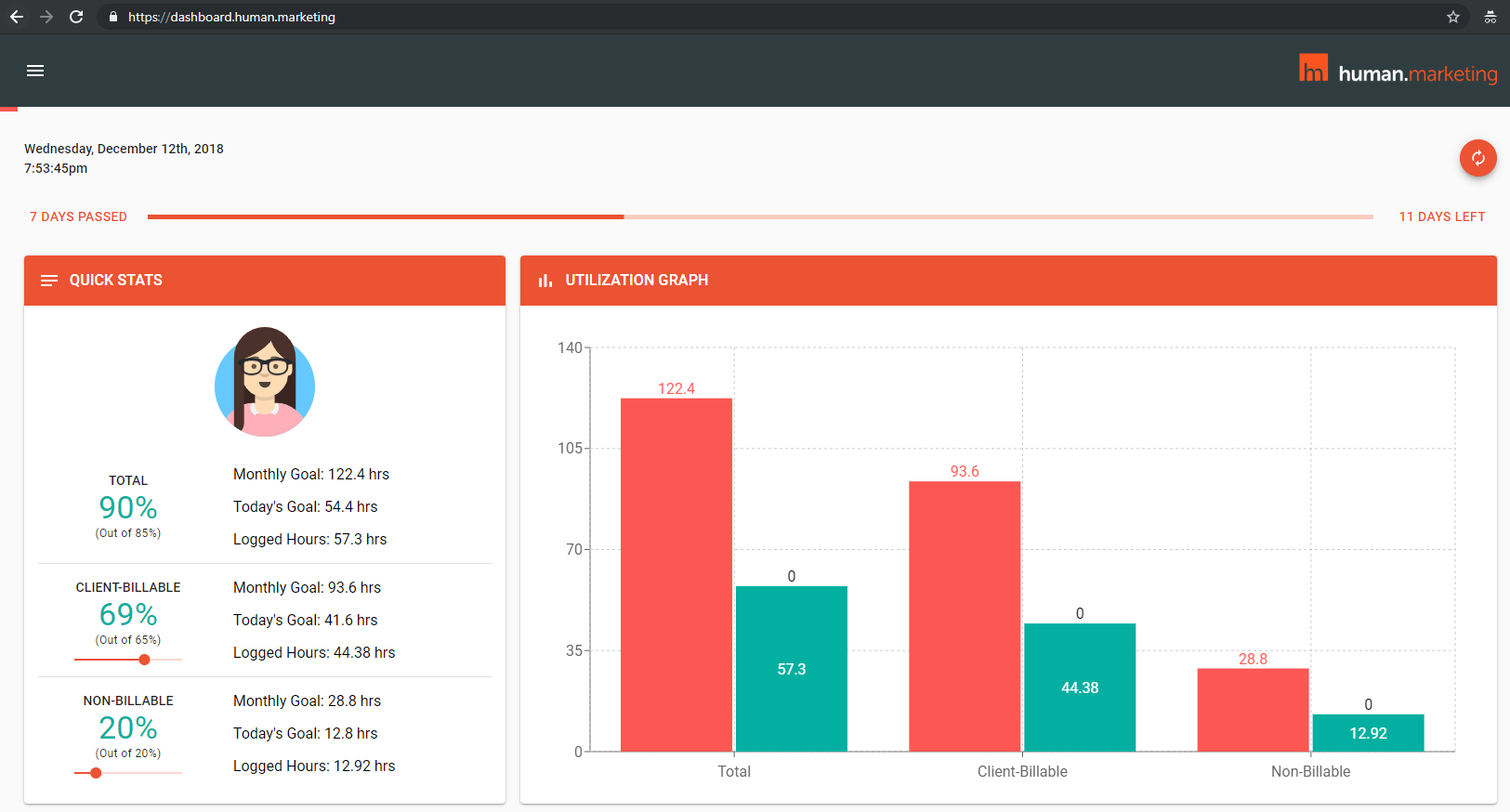 This is the entire company's utilization rates, at a glance: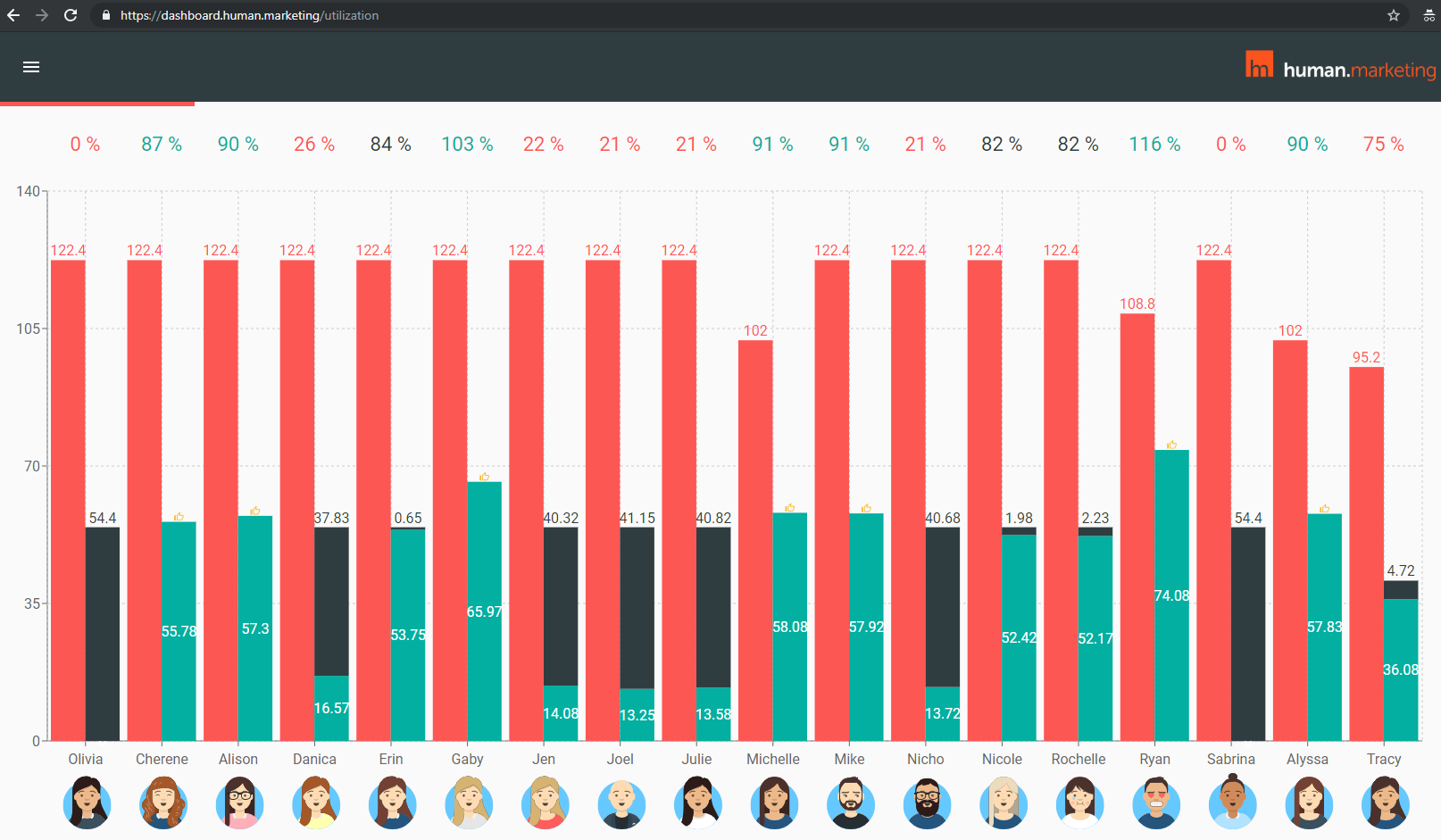 The top row of percentages shows the total utilization rate by each employee:
Black = on track

Green = above goal

Red = below goal

The bars represent hours:
The red bar is the total goal hours, the green bar is the total hours logged, and the black bar is the goal to hit by the end of the day.
These rings are project budget burn-ups: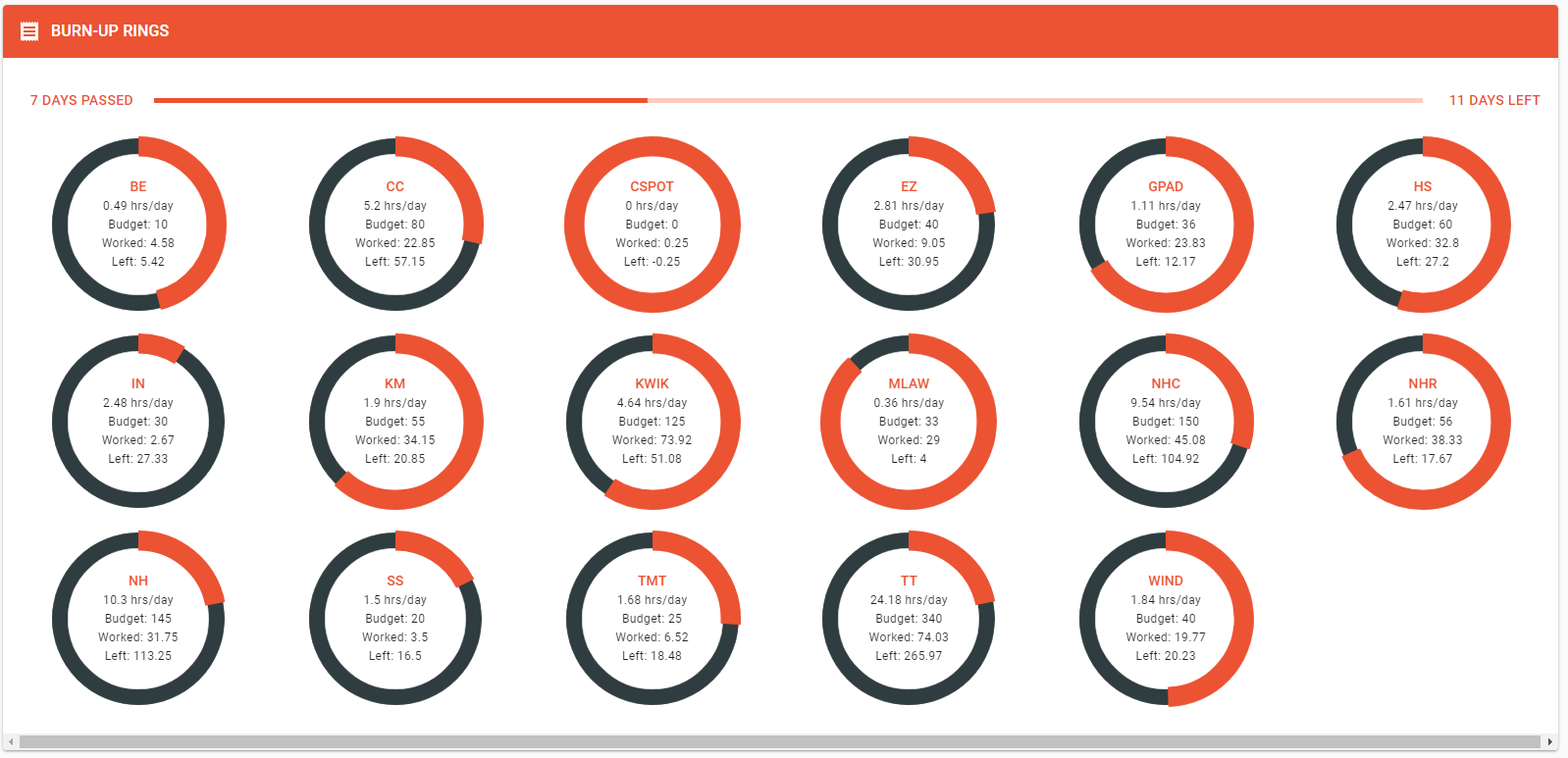 We also made our own version of the burn-up charts which are faster and more friendly than what Jira and Tempo product out of the box!
Tasks and team, at a glance:

The dashboard makes it easy to see your assigned issues and links directly to them in Jira.
The most fun part: Our development team went out of their way to gamify the dashboard. Each day, a user has 5 hearts that they can award to other users. With hearts, you can "buy" different looks and accessories for your avatar. It puts the fun in functional!
Contact us if you are interested in this tool or need something developed for your unique Jira environment!
If you want to work with an agency that understands agile marketing...