Human Marketing, an Irvine-based inbound marketing agency, received a Platinum 2018 AVA Digital Award in the category of Web-Based Production - Blogs.
The Platinum award is the highest recognition given to AVA Digital Awards winners. Human Marketing earned the top award for exceptional blog writing for its client, Thompson Tee. Since 2015, Human Marketing has helped the international ecommerce brand produce educational, authoritative content and drive 100 percent year-over-year revenue growth.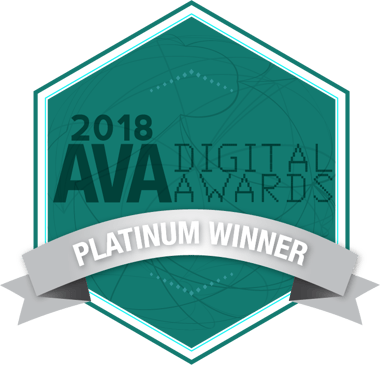 "Producing authoritative digital content for our clients has always been a top priority," said Joel Brda, founder and CEO of Human Marketing. "It's an honor to see our dedication to content quality recognized by industry peers."
The Association of Marketing and Communication Professionals (AMCP) sponsors and judges the annual AVA Digital Awards. The international competition recognizes creative professionals who plan, design and produce exceptional work in the field of digital communication. Participants can submit work in more than 200 categories ranging from digital marketing to web development to interactive media.
Unlike many other creative competitions, the AVA Digital Awards does not allow participants to submit proposals to persuade the judges. Entries are judged solely on the quality, creativity and resourcefulness of their work. In 2018, 15 percent of entries received a Platinum award.
ABOUT HUMAN MARKETING
Founded on the principles of "Conscious Capitalism," Human Marketing was born out of a shared desire to do meaningful work, help people and deliver exceptional business results — all while enjoying the ride. As a full-service digital marketing agency, Human Marketing executes comprehensive digital marketing strategies for a select client base, helping them expand their online presence, maximize marketing ROI and grow revenue. Since 2015, Human Marketing has achieved HubSpot Gold partner status and become a certified DigitalMarketer partner.
To learn more about Human Marketing's philosophy and client success, visit http://human.marketing/.