Every company wants to crack Google's algorithm code. And while investing in organic search results is the foundation of a successful SEO strategy, other simple steps can make you look more authoritative to visitors and complement your existing SEO efforts.
Use a Cohesive Brand Name Across the Site
Your customers will type your company name into search engines to locate your site. But does your brand show up in search results?
You typically don't want to compete with pages you already rank well for (if you can avoid it). Choosing a search-friendly company name that's easy to rank for is the first step in getting found via branded searches.
As part of your SEO strategy, you'll also want to keep your brand name consistent.
For instance, despite the logo, we always reference Human Marketing as two words with a space to mimic how people would likely type it into a search engine. We could simplify the name and go by "HM " — but we would be competing with H&M (a well-known clothing company). Groups of letters are also historically harder to rank for.
Now, you're thinking I'm being overly picky. But type a couple random letters into the Google search bar, and see what happens. You'll notice that another site probably ranks for those same letters.
Of course, it's possible to outrank some combinations. But more importantly, how does that Google search result look? Will you have to compete with someone's Dow acronym taking space on the right? Or a football player?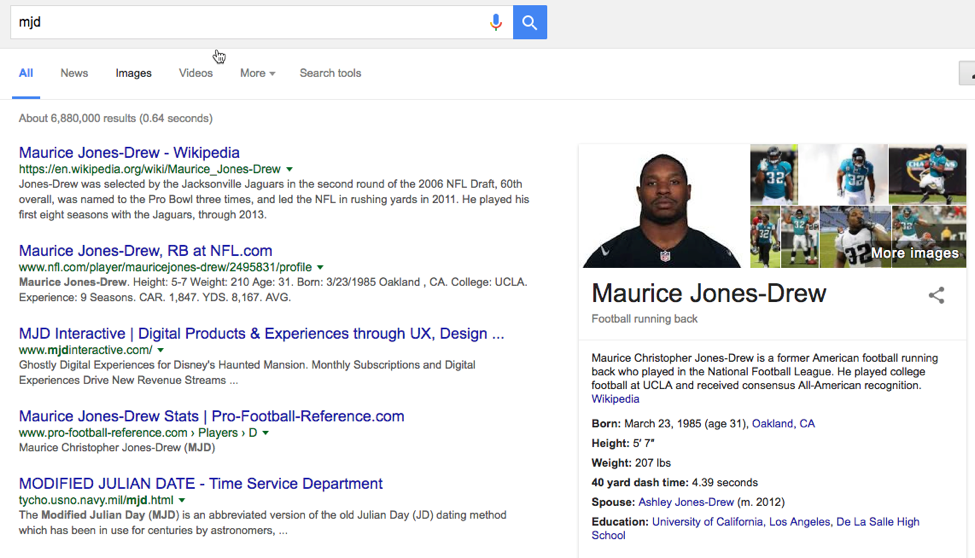 What if I typed in MJD to look for a company, but now I only see a person? You almost don't notice a company ranks No. 3 because the football player's bio takes up so much real estate.
Take a look at our search results below. At this point, our website has only been up for 9 months — yet we've been able to outrank a number of sites (including digital marketing agencies). We also have a Google information box on the right sidebar to reinforce our brand.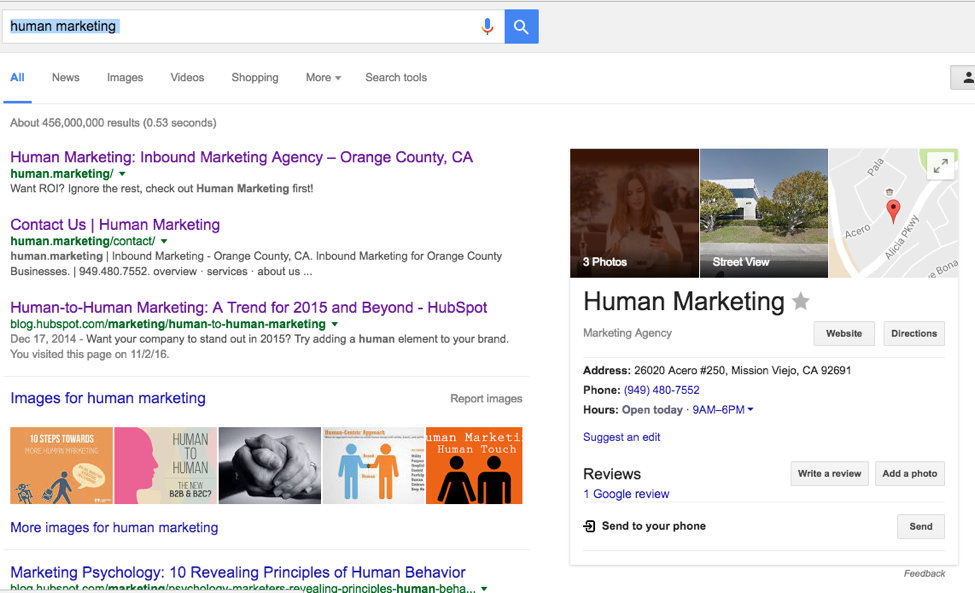 Set Up a Google Information Box Alongside Branded Results
How did we get the call-out in the Google information box on the right sidebar? All we had to do was ask Google! Not via text or email. We added Google schema tags in our website code to signal our phone number and address and let Google know Human Marketing is a local business.
<div itemscope itemtype="http://schema.org/LocalBusiness">
<span itemprop="address" itemscope itemtype="http://schema.org/PostalAddress">
<span itemprop="streetAddress">26020 Acero</span>, <span itemprop="addressLocality">Mission Viejo</span>, <span itemprop="addressRegion">CA</span> <span itemprop="postalCode">92691</span>
</span>
| <span itemprop="telephone">949.480.7552</span><br>
<a href="index.html"><span itemprop="name">Human Marketing</span></a>&nbsp; | &nbsp;<span itemprop="description"> Inbound Marketing Agency based in Orange County, CA</span>
</div>

This is just one schema Human Marketing uses. You can also use schemas to improve website rankings — but use them wisely. Google penalizes sites that stuff schemas.
Bid on Your Brand to Dominate Search Results & Instill Confidence
To instill confidence in website visitors, you should also bid on your company name. Some marketers don't like the idea of bidding on clicks when the company already ranks No. 1 for the term. But there's logic behind the madness.
Taking over the search results by appearing in paid ads, organic search results and the Google search box reinforces the fact you're a legitimate brand and visitors have found the correct site.
It's also important to know that other companies can still bid on your company name, meaning they would show up above your organic results. Don't let other companies take your well-deserved business!
So there you have it: 3 simple ways to complement your SEO strategy and gain visibility in Google search results.
Looking for SEO help from an Orange County inbound marketing agency? Contact Human Marketing for a free assessment!