Ecommerce promotions are a great way to re-engage your contact database while also enticing new website visitors to make a first-time purchase.
While holiday promotions generate significant revenue, you'll be competing with every other ecommerce business with the same idea. Consumers are bombarded with ecommerce emails and ads during the holidays, and it can be hard to get the necessary eyes on your promotion.
So if you want to earn your prospects' money, you need to stand out against thousands of competitors.
If you don't let the calendar dictate your sales, you have an opportunity to reach inboxes and news feeds without competition.
We've put together 7 online retail promotion ideas that will help you generate profit year-round:
Read on to learn how to implement these campaigns in your ecommerce promotions.
The Benefits of Running Ecommerce Promotions
First, let's go over some key pointers on why you should run regular ecommerce promotions.
If you want your ecommerce business to achieve long-term success, you need to ensure your brand is top of mind for customers.
Online retail promotions are essential to increasing customer lifetime value (LTV) and driving a continuous stream of revenue.
A RetailMeNot survey found that 93% of consumers would make a repeat purchase with a retailer that offered good discounts. Comparatively, 48% said they avoid brands that don't provide offers.
That said, if you can attract and delight customers with original promotions all year round, they're more likely to spend money with you during big retail holidays. According to the same survey, repeat customers spend 25% more per transaction during the busy holiday season (November and December).
Successful promotions offer value to your customers while generating profit. But running the same promotions over and over can get repetitive fast. Your business needs to implement new tactics to increase customer LTV and maintain a competitive edge.
7 Ecommerce Promotion Ideas to Use Today
Awesome promotions are essential for growing any business. Learn how to drive traffic, attract new customers, and increase sales with these 7 ideas.
1. Flash Sales
During a flash sale, ecommerce stores offer specific products for a limited time at a deep discount.
Flash sales are a great way to generate hype for excess inventory or make room for new products, all while offering value to your customers and bringing in quick revenue.
Flash sales create a sense of urgency and exclusivity. Customers don't want to miss out on deals that might not happen again for a while. Flash sale emails also boost open, click-through and conversion rates.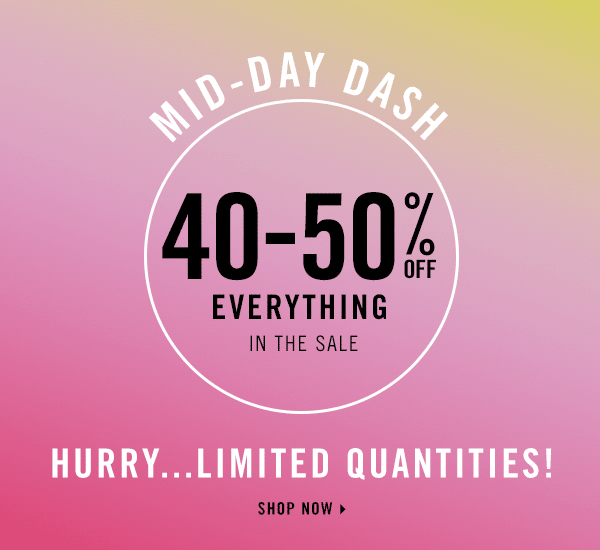 Since the promotion time is short, you can plan multiple flash sales throughout the year. Make sure your website and inventory are prepared to handle the sudden spike in traffic.
2. Christmas in July
Summer is a historically slow season in the retail world. But you don't have to let the summer blues slow your revenue stream.
Christmas in July began as a European tradition. During blistering summer days, people longed for the gift-giving holiday spirit. Christmas in July quickly morphed into a retail holiday, and companies started imitating festivities and extending deep discounts generally reserved for the holiday season.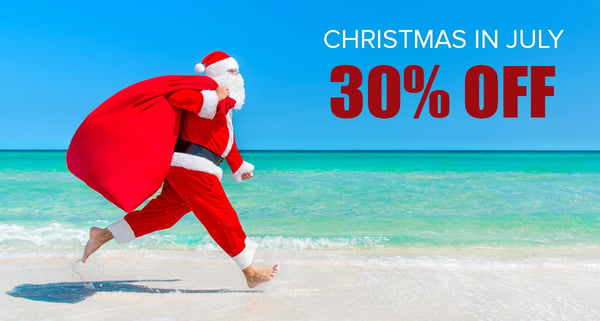 With a Christmas in July promo, you'll have minimal competition in the middle of the summer. Boost lackluster summer sales, and avoid fighting for real estate in your subscribers' inboxes.
Retail giants like Amazon and Walmart push Christmas in July promotions, but don't let that fool you into thinking this idea isn't profitable for smaller ecommerce brands.
When running a Christmas in July promo for one ecommerce client, we planned a two-day sale with the highest discount we had ever offered. As a result, we generated the most revenue on a single day in the client's company history.
3. Mystery Sales
Humans are curious by nature. There's no better way to pique your customers' interest than with a mystery sale.
During a mystery sale, you offer a secret discount that the customer doesn't see until they click through to your site, add something to their virtual shopping cart or begin the checkout process. Using smart calls to action (CTAs) and modules, you can assign different discount amounts to potential customers based on their purchase history or behavior.
Even if a customer isn't in the market to make a purchase, a mystery sale entices them to investigate what kind of discount they'll get. Once you get those customers to your website, they're already one step closer to making a purchase.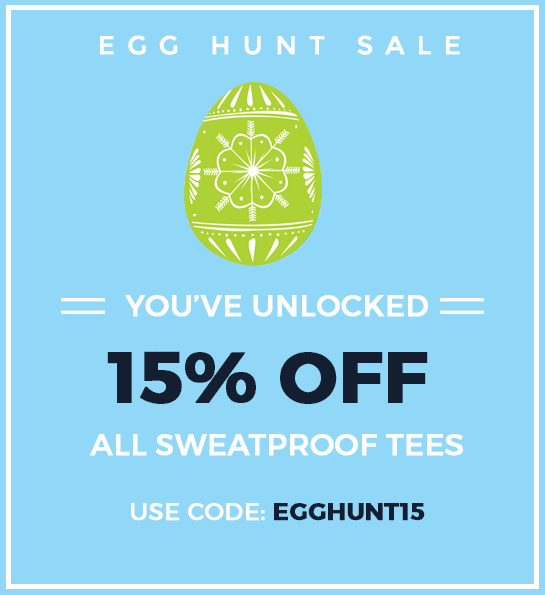 We planned a mystery sale for our ecommerce client using smart CTAs. To keep profit margins high, we assigned discounts based on the contact's last purchase. We calculated the discounts based on this formula:
90 days since last purchase = 25% off
45-89 days since last purchase = 20% off
Less than 45 days since last purchase = 15% off
Each contact that visited the site saw a personalized banner that revealed their discount amount. All other visitors would see a default discount of 15%.
The mystery sale increased our email click-through rate by 200%.
At Human, we can help you use smart CTAs to personalize your promotions and maximize your net profit. See how Human can grow your ecommerce business through email marketing.
4. Early Black Friday and Cyber Monday
Did you know retailers sent 116.5 million emails on Black Friday 2019? We know it's hard to cut through the noise to get your promotions in front of prospective customers.
Here's a solution: Offer Black Friday and Cyber Monday deals earlier in the month to make sure your contacts see your emails. Brick-and-mortar retailers like Walmart are already using this tactic to extend their sales and increase revenue.

You might be hesitant to promote your deepest discount early, as it can potentially cannibalize your actual Black Friday and Cyber Monday profits. However, when we run this promotion for our clients, we continue to see record-breaking revenue days on Black Friday and Cyber Monday.
Discover more hacks for increasing your Black Friday and Cyber Monday revenue: 15 Black Friday and Cyber Monday Ecommerce Ideas.
5. 12 Days of December
Three out of four consumers report that promotions are very or extremely important to them during the holiday season, so it's critical to widen your scope of Christmas ecommerce ideas. Aim to continue promotions outside of Christmas and Christmas Eve in December.
Coming up with unique Christmas promotion ideas for your online store can be tricky, but there are other ways to sneak in some extra promotions before the year ends.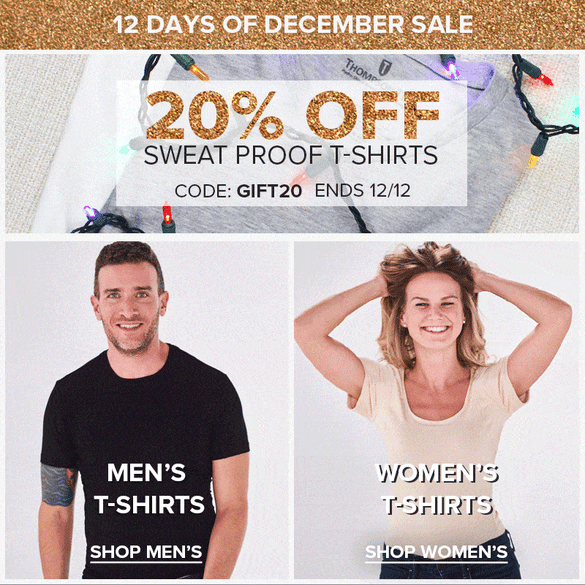 Show your contacts you're stoked for the holidays by offering discounts for the first 12 days of December. These early promos allow you to fit in another promotion right before Christmas, during a time when there's a little less competition for inbox space.
6. "Just In Time" Promos
Run special promotions a few weeks in advance, encouraging customers to shop in preparation for a holiday. Customers will have enough time to purchase your products as gifts (or for themselves), so they arrive on time for a holiday or major event.
Some examples of holidays that need lead time for gifts or preparation are:
Valentine's Day
Mother's Day or Father's Day
Spring break, summer vacation or long weekend holidays
Graduation season
Black Friday and Cyber Monday
Christmas
These concepts allow you to take advantage of "holiday revenue" before other ecommerce brands launch a flurry of promotions.

7. Unofficial Holidays
If you're stuck in a creative rut, try capitalizing on an unusual national holiday. Businesses are finding ways to profit from unconventional holidays, such as National Pizza Day or Talk Like a Pirate Day.
Don't be afraid to build promotions around random holidays that have nothing to do with your product. J. Crew, for example, ran a promotion on National Donut Day (June 5th) by serving complimentary donuts in all their stores. They also offered a 40% discount on sale items to celebrate the occasion.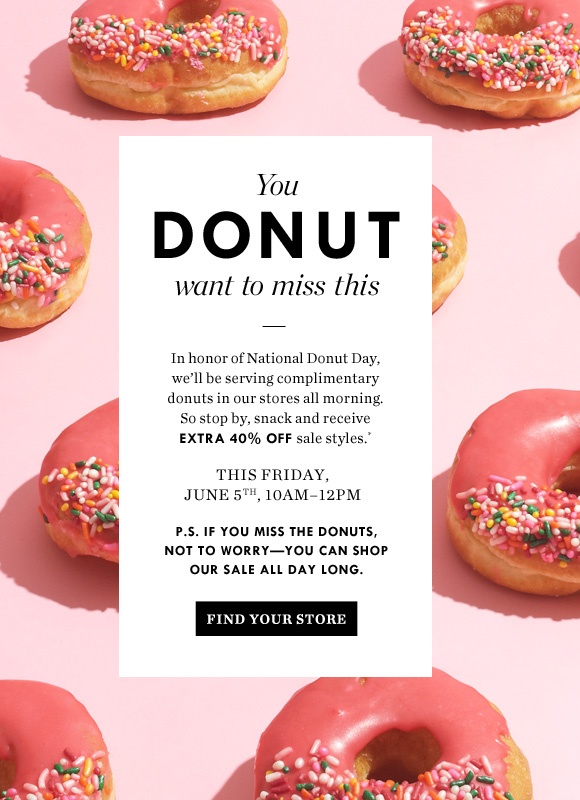 Fashion and donuts are pretty unrelated, but free food proved an excellent incentive to get people in the stores spending money.
Check out the National Day Calendar to see all the quirky holidays you can use for your ecommerce promotions.
Get Expert Help With Your Ecommerce Promotions
At Human, we're passionate about helping ecommerce brands reach and surpass their business goals.
Allow us to help you run your email marketing campaigns and year-round promotions. Whether you need guidance developing promotion calendars, creating emails, ads and website banners or tracking and measuring promotion success, Human has you covered.
If you'd like to learn more about our tried and tested email and ecommerce marketing strategies, let's chat!